Sony has repeatedly reiterated that it wants to improve the value of PS Plus in order to retain subscribers as it transitions to the PlayStation 5 era, and this may be another example of that: Wreckfest's next-gen port is available a month early to members. The game doesn't officially launch on PS5 until 1st June, but PS Plus users can download and play the racer right now.
To our deep knowledge, this is the first example of early access on PS Plus that we're aware of. There have been day one launches in the past – like Oddworld: Soulstorm, for example – but usually the official release date is scheduled to coincide with the rollout of the free PS Plus games. In this instance, non-subscribers will have to wait until next month to purchase the game or upgrade their PS4 copy.
Even the language on the PS Store suggests that this is an unprecedented situation, labelling the release as a 'PS Plus Exclusive'. For May 2021's other games, like Battlefield V and Stranded Deep, it just says 'PS Plus Included':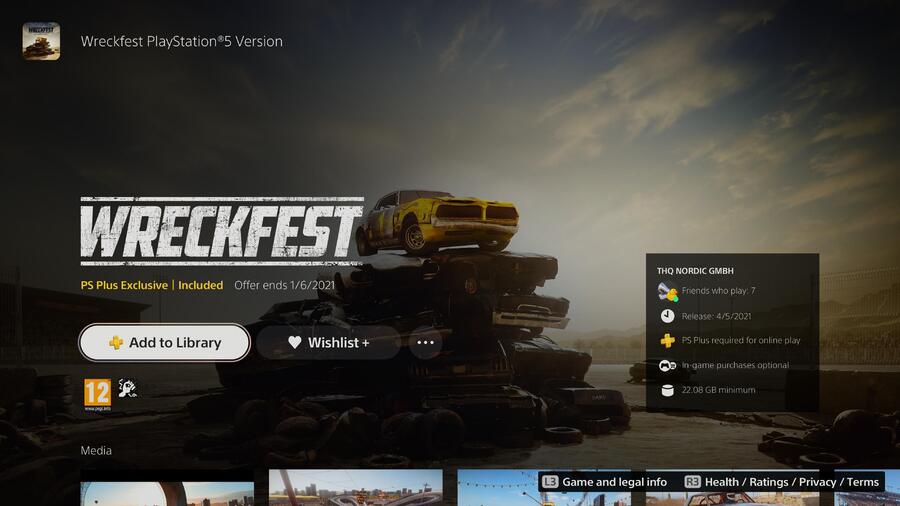 We did contact THQ Nordic representatives about this situation, and while they did confirm to us that non-subscribers will have to wait until 1st June to purchase the game, they were unable to comment further on the situation. It's certainly an interesting move: Sony is treating subscribers like royalty of late, and this is yet another example of that.
Would you like to see more games released early to PS Plus members, or do you not really see the value in that? Play before anyone else in the comments section below.