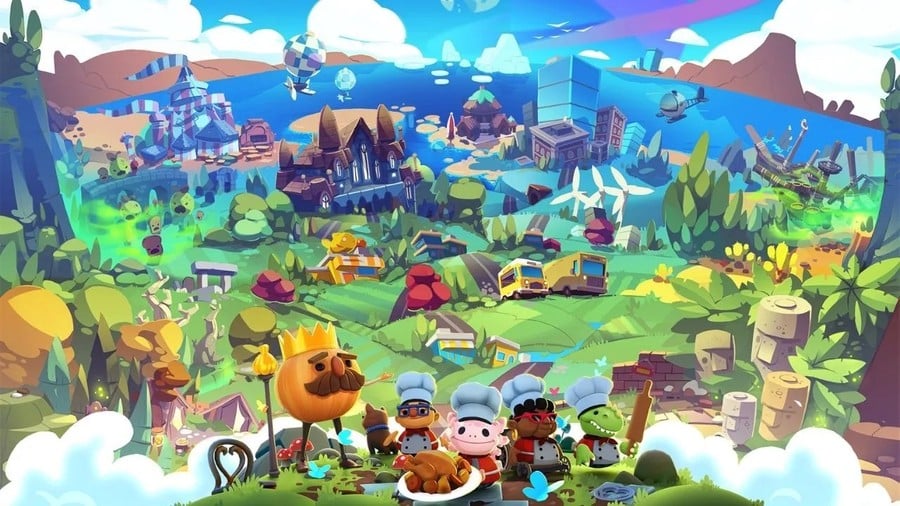 Overcooked: All You Can Eat bundles the two games and all DLC together in one remastered package on PlayStation 5. The collection will be available on the next-gen system from day one, and it sounds like it's really taking advantage of the new hardware. In addition to more detailed levels, 4K support, and 60 frames-per-second performance, publisher Team 17 has detailed how the game utilises the DualSense PS5 controller.
In this co-op cooking game, it's important to know who's who onscreen. With the DualSense's light bar, which surrounds the touch pad, you'll be able to see at a glance which colour player you are. This was the case on PS4, but the new position of the light bar makes this a much more useful feature. Additionally, you'll be able to swipe your finger across the touchpad to select from a series of emotes. The game will also be making use of the DualSense controller's built-in speaker, broadcasting in-game alerts to players through their pads as well as the TV.
Most importantly, though, haptic feedback is being used for numerous things. The PlayStation Blog post describes being able to "feel" your food burning, which will certainly be alarming. Furthermore, the haptic feedback will tell you where something is happening by localising the sensation to one spot on the controller. "It may be all calm on one side of the kitchen but if a pan is on fire on the other side, your DualSense wireless controller will tell you," says the blog post. All sorts of things will trigger the haptics, such as burning food, fires, when food is ready, when you catch an item thrown to you, and more.
We're looking forward to getting back in the kitchen with Overcooked: All You Can Eat on PS5. Will you be dining on this one? Have a bite to eat in the comments section below.
[source blog.playstation.com]