Sony will pull back the curtain on the PlayStation 5 this week, after an agonising wait. Outside of some minor driblets of information, the PS5 Showcase Event will grant us our first in-depth look at the next-gen system's launch titles – and, presumably, that all-important price and release date reveal. It's going to be a big showcase for gamers all around the globe, and we'll be watching intently. But what can we realistically expect from the livestream? Here are our predictions.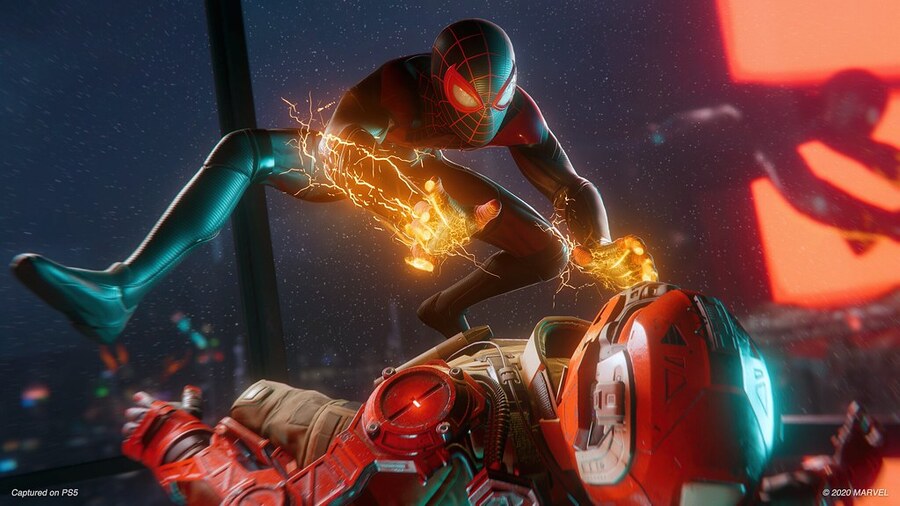 Marvel's Spider-Man: Miles Morales Running on PS5
Marvel's Spider-Man: Miles Morales is undoubtedly the flagship PS5 launch game, but we've barely seen more than a few seconds of actual gameplay. We're expecting the Japanese giant to kick-start its PS5 Showcase Event this week with a longer look at the superhero spin-off – potentially booted directly from the next-gen console. We reckon there's an opportunity to give us a glimpse of the user interface, Create Button, and loading speeds all while showcasing a few minutes of gameplay footage; with just 40 minutes scheduled for the showcase, the manufacturer will need to be precise, but as this is a pre-recorded event it should be able to squeeze in a good few minutes to fully demonstrate both the game and the overall user experience.
Demon's Souls Gameplay Trailer
As mentioned above, 40 minutes isn't a whole lot of time, so we suspect the manufacturer may settle for a gameplay trailer for Demon's Souls rather than a full-scale demonstration. The positive here is that we're hoping the PS5 Showcase Event represents the beginning of Sony's hype-building efforts, and if so, it should merely represent the beginning of its marketing campaigns for these next-gen titles. There's still a good chance that Bluepoint's hotly anticipated FromSoftware remake is a launch game, and if that's the case, expect the Internet to explode.
The Launch Game Collection
We know that Marvel's Spider-Man: Miles Morales and Demon's Souls are, potentially, the flagship PS5 launch games – but what of the system's wider software selection? We'll surely get more information on Destruction AllStars and Sackboy: A Big Adventure during this showcase – both of which will presumably be ready in time for release date. Astro's Playroom could also feature, but we're not expecting to see more of Gran Turismo 7 and Horizon Forbidden West just yet. Ratchet & Clank: Rift Apart got its big gameplay blowout a few weeks ago.
Major Third-Party Partners
There's going to be games from Sony's third-party partners – that much is a given. We reckon there'll be an emphasis on launch window titles here, so Hitman 3 with its January release date will surely feature. Seeing as Capcom promised and then failed to deliver Resident Evil Village news in August, we'd expect a little more of that as well. There has been some speculation that Final Fantasy 16 could be announced, but we wouldn't anticipate it – it's always best to keep your expectations low.
Indie Alternatives
It can't all be AAA all the time, so don't be surprised if some indie games make the 40 minute running time. We assume the livestream will be reserved for high-profile titles, like Bugsnax and Kena: Bridge of Spirits, but there could also be some new announcements here if Sony has something it wants to particularly spotlight. As always, it's difficult to predict what kind of indie titles could appear, but the emphasis will be on launch window titles we're sure.
A Bit on Backwards Compatibility
Sony should focus on next-gen games, as it's a huge differentiating factor compared to Xbox's tepid efforts at this time. Nevertheless, backwards compatibility is going to be a huge selling point, and it's important for the manufacturer to show that it's doing it right after some muddled messaging earlier in the year. We wouldn't be surprised if it announced free upgrades for tentpole titles like The Last of Us: Part II and Ghost of Tsushima, as most third-party publishers have revealed similar things, and the Japanese giant won't want to be left behind here.
The All-Important Price and Date
The missing piece of the puzzle: the price and release date. Sony needs to provide more information on how much the PS5 will cost, when it will be available, and where pre-orders can be obtained. Given the competitive nature of Microsoft's reveals, it'll need to communicate effectively here, but we don't foresee too many hiccups as long as subsequent PlayStation Blog posts and press releases are clear and to-the-point. A good price and release date reveal, paired with a strong software showcase, should take PS5 hype to entirely new levels.
---
We're being realistic with our PS5 Showcase Event predictions: we're not expecting many new announcements in a short 40 minute window, or any bonkers megatons. There'll be gameplay footage for announced games, and that all-important price and date information. We reckon this is enough – while there are rumours of Silent Hill, Uncharted, and much more, it's in Sony's best interests to hold those announcements back until the new year, assuming they even exist at all. But what are you expecting during the livestream? Share your hopes and dreams in the comments section below.