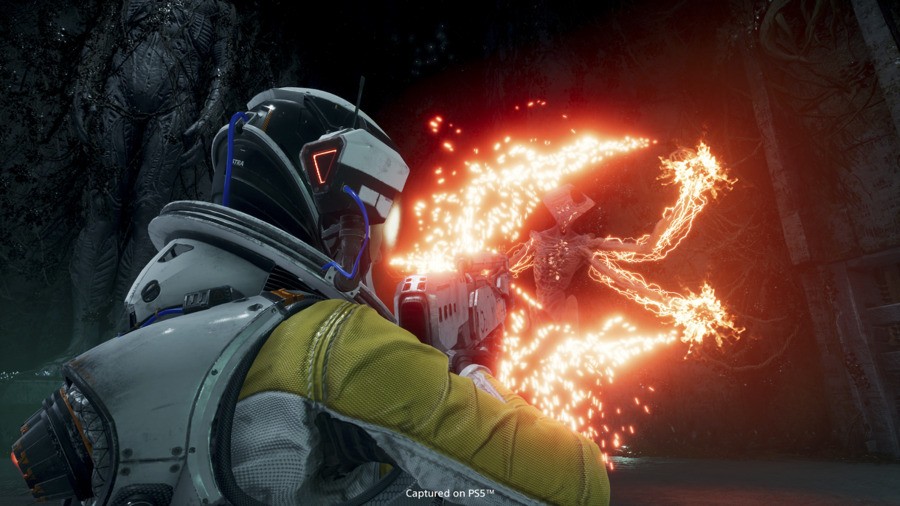 Returnal is a PlayStation 5 exclusive from Resogun developer Housemarque that seems to be going too far under the radar right now. This 2021 title is looking particularly impressive in both footage and screenshots, and today we've gotten even more of the latter combined with some new details. These tidbits come courtesy of the game's official PS5 page, where the roguelike is described as one "designed for extreme replayability".
The new image you see above comes with an impressive amount of detail upon the protagonist's suit that we're sure will be one of the differences between the current generation and the next. Speaking of which, that lead character is named Selene. "After crash-landing on this shape-shifting world, Selene must search through the barren landscape of an ancient civilization for her escape. Isolated and alone, she finds herself fighting tooth and nail for survival. Again and again, she's defeated – forced to restart her journey every time she dies."
The description goes on to liken Returnal to a bullet-hell shooter complete with varied environments containing monsters that stalk your every move. Even if you're not into roguelikes, this still surely has to be one for your wishlist. How hyped are you for Returnal? Let us know in the comments below.
[source playstation.com]