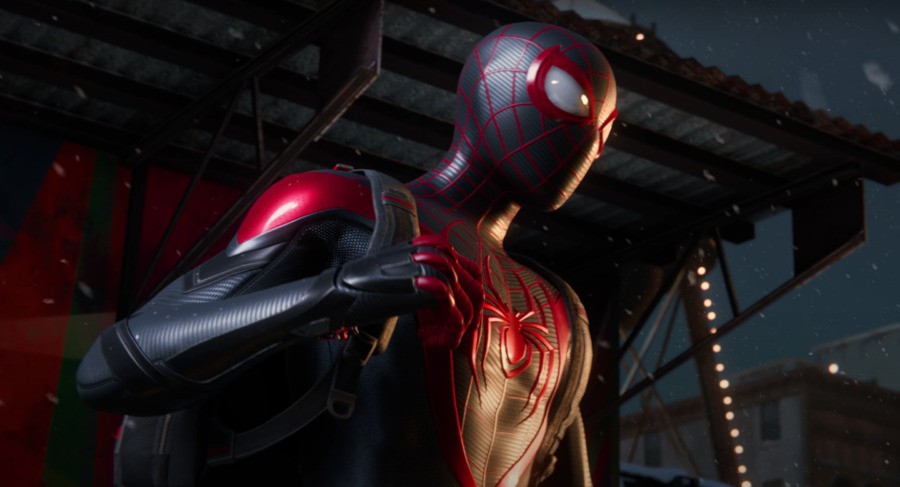 Marvel's Spider-Man has a whole bunch of optional Spidey suits to unlock, so it's inevitable that the follow-up will be the same. In Marvel's Spider-Man: Miles Morales, you play as the titular younger hero, but that doesn't mean he won't have his own alternative outfits to wear. The very first of these, aside from his regular black and red suit, has inadvertently been revealed.
On PlayStation's own online store, you can pre-order a bunch of PS5 and PS4 games, including Miles Morales. An image popped up on the listing, showing off a couple of pre-order bonuses. This picture has now been removed, but not before the Reddit community found it:
The image is a little small, so let's go through what's there. First and foremost is the T.R.A.C.K. suit. This first alternative costume is designed by Miles Morales comic book artist Javier Garrón, and the acronym stands for Time Response Activated Circuit Kinetic. That's according to Target, which also states the outfit comes with the Untrackable suit mod. Perhaps it boosts Miles' invisibility power? The image also teases a second outfit that you'll get as a pre-order bonus.
Additionally, the above image reveals a new gadget we can use in the new game. The Gravity Well gadget will allow you to "Pull enemies together to knock them down and disarm them". Pre-ordering the game grants you early access to both the suit and the gadget, but presumably you'll be able to get them through normal play as well.
We should learn much more about this and other new suits in the coming weeks. Sony appears to have hit the button a little early, but at least we now know that Miles Morales will follow the first game's footsteps, with a wardrobe of extra suits and all kinds of gadgets for combat. What do you think of the T.R.A.C.K. suit? Web zip into the comments section below.
[source reddit.com, via gamesradar.com]