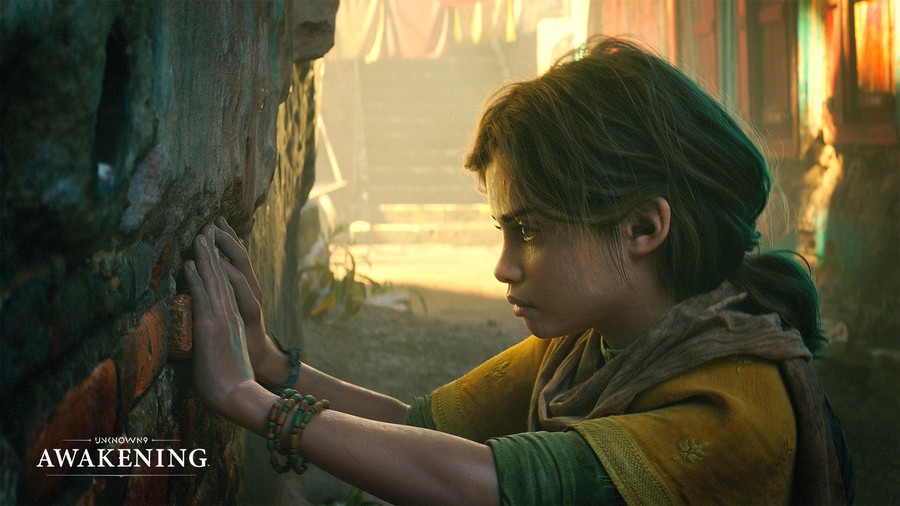 New game reveals were very few and far between at Gamescom Opening Night Live, but Unknown 9: Awakening just so happened to be one of them. The announcement trailer certainly kept its cards to its chest though, so you might still be wondering what this PlayStation 5 game is all about. Thankfully, developer Reflector Entertainment followed up on the reveal with details that pitch the title as much more than just a standard game.
Unknown 9: Awakening will come to PS5 in 2021, it's the studio's very first title, and it is described as a third-person "narrative-driven action-adventure game". The girl you saw in the trailer is named Haroona and the powers she has access to are known as the Fold. That's just the tip of the iceberg, however.
The game itself forms just a part of a larger Universe 9 world that contains a novel written by Layton Green, a podcast named Universe 9: Out of Sight, and a comic book titled Universe 9: Torment. These products are all said to be standalone, but will enhance your experience of the Universe 9 world. Alexandre Amancio, CEO at Reflector Entertainment, describes the PS5 game as a passion project. "Our game features a complex heroine that must come to terms with who she is. The game is set in the Unknown 9 universe, a modern Storyworld that centers on humanity being on the edge of either transcendence or self-destruction."
This seems to be quite the undertaking considering this is Reflector Entertainment's very first game, but you can visit the official website now to get a head start on the story. Unknown 9: Chapters is a community-driven experience that allows fans to solve mysteries in the universe. You can also access the aforementioned book, podcast, and comic book over there too free of charge.