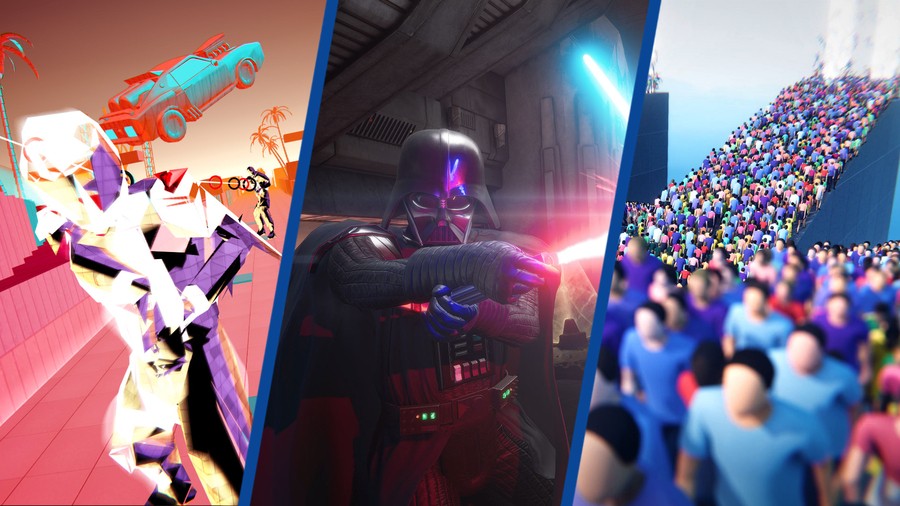 It's been nearly four years since Sony first introduced PlayStation VR, but even now, its virtual reality hardware continues going strong. While it remains a niche platform, PSVR has undeniably broken down barriers with an affordable price and easy to use setup, reaching a staggering 5 million sales back in January since 2016. Few triple-A publishers have pushed it harder than Sony.
It marked the first modern attempt to bring real VR to consoles, utilising the PS3-era's PlayStation Move controllers. We've seen some fantastic first-party efforts previously like Astro Bot Rescue Mission, Déraciné, and Blood & Truth, bolstered by a solid third-party line-up like Beat Saber, Tetris Effect, and Superhot VR.
2020's already seen strong releases across both sides with The Walking Dead: Saints & Sinners, Dreams, Iron Man VR, and Paper Beast, but despite focusing on the PS5's upcoming launch, Sony isn't done yet. Confirming PSVR compatibility with PS5 and rumours of a second headset to follow, there's still plenty of PSVR games left to come. Here's 10 of the biggest ones we're looking forward to.
Vertigo Games saw early success on VR with Arizona Sunshine, but after three years of content updates, its final DLC The Damned released last October. So what's next for Vertigo right now? Back in June last year, it revealed its newest title After the Fall, bringing us a new FPS game with co-operative mechanics, scavenging, and RPG elements.
This time we find ourselves in Los Angeles' icy ruins, set two decades after civilisation collapsed in 1985. A new enemy has emerged called the Snowbreed, humans that mutated into these horrors after taking an experimental drug. We've heard little since last year, but Vertigo has recently finished porting Arizona to Oculus Quest, so we're hopeful for another update soon.
Budget Cuts was pretty successful when it launched on PC in 2018, receiving a sequel last December, but PSVR owners are still waiting on the original entry. Having been delayed until September, developers Neat Corporation revealed that it will come with an exclusive stage called Panopticon, advising it's been designed "specifically with PSVR in mind".
Combining corporate satire into an action-stealth premise, you play a human employee of Transcorp that finds both their life and job under threat from automation, as Transcorp seeks to replace the human workforce with a robot army. Budget Cuts was a lot of fun on PC, so we're curious to see how well it translates to PSVR, and to make life better, a physical release is also planned.
Enhance Games has made an excellent name for itself on PSVR, most recently bringing us Tetris Effect back in 2018. While that's due to get a multiplayer expansion in 2021, last September's State of Play conference revealed Enhance is working on a separate project called Humanity, developed by THA under the supervision of Rez Infinite's director, Tetsuya Mizuguchi.
Humanity's trailer left quite an impact, and while it did little to explain what actually happens in-game, THA founder Yugo Nakamura gave us more of an overview via a PlayStation Blog entry. It looks like we'll be in control of the masses, using them to surpass obstacles and considering the talent backing this, we're intrigued to see how this bizarre project unfolds.
Back in June, UploadVR released its 2020 Showcase and among it was Low-Fi, having been successfully crowdfunded last September. Playing a police officer assigned to city-block 303, this cyberpunk VR game promises open-ended choices, allowing you to "Patrol the streets and the skies, solving mysteries, fighting crime, or giving in to corruption and your own desires".
It's a promising concept and most interestingly, developer IRIS also confirmed Low-Fi would be coming to PS5 in 2021, making it the only PSVR game currently announced for Sony's next-gen console. Seeking further clarification, we confirmed with IRIS that there's no plans for a PS4 version either, so whether this uses existing PSVR or ties into the rumoured PSVR 2 headset remains unclear.
Pistol Whip was a massive hit when it came to PC last year, and looks set to extend this success to PSVR. Developed by Cloudhead Games, it's a game best described as a mix between John Wick and Beat Saber, bringing us an action-rhythm FPS to VR that also becomes one hell of a workout. Each level is on-rails and you need to take down enemies to proceed, avoiding their bullets and awarded a higher score for shooting them in time with the beat. Support isn't letting up either, having seen five new levels since launch, but Cloudhead recently outlined its 2020 roadmap, promising even further content like the Heartbreakers Trilogy pack.
Rebellion is no stranger to PSVR. Releasing Battlezone as a launch title and publishing Arca's Path in 2018, last year saw confirmation that Rebellion's popular Sniper Elite series is also making the jump. Rather than adapt an existing title, Sniper Elite VR is a brand new game, bringing an original campaign based around the Italian Resistance in World War 2.
Marking a transition to first-person gameplay and featuring PlayStation Aim support, we've not heard much since Rebellion's initial reveal, and there's no confirmed release date just yet. Previews from this year's PAX East were mostly positive, though, so things appear to be heading in the right direction.
We weren't the biggest fans of Firewall: Zero Hour when it first dropped in 2018, but it proved quite successful, coming packaged with the PlayStation Aim controller. Ever since, First Contact Entertainment has been working hard on Solaris: Offworld Combat, a VR arena shooter designed for eight-player matches online with faster paced gameplay and a sci-fi aesthetic.
Unlike Firewall's tactical approach, Solaris is more of a competitive run-and-gun that feels like a futuristic eSport. You'll play a cyber athlete within this deadly arena filled with weapons, but this time, you can respawn. FCE has confirmed cross-play support and dedicated servers for Solaris, and while PC players get it next month, PSVR users will be waiting until later this year for launch.
Since EA's acquisition of the Star Wars licence, we've seen no end of PS4 entries. From its Battlefront revival to last year's acclaimed Jedi Fallen Order, this year now brings us a rather different experience with Star Wars: Squadrons. Developed by EA Motive, Squadrons focuses more on starfighter combat and is set for release on 2nd October, excitedly featuring full PSVR support.
Taking place after the Battle of Endor, Squadrons' story sees a campaign split between two pilots on both sides of the conflict, flying for the Empire's Titan Squadron and New Republic's Vanguard Squadron. There's a large multiplayer focus with online 5v5 battles between these two squads, bringing a level of space dogfighting not seen since EVE: Valkyrie, and it looks rather promising.
It's been a couple of months since we got the news, but you may recall that Squadrons isn't the only Star Wars coming to PSVR this year, as Vader Immortal is also making the jump. Written by David S. Goyer of The Dark Knight trilogy fame, you'll play a smuggler operating near Mustafar, finding yourself tasked by Darth Vader directly to investigate an ancient mystery.
Having previously released in three episodes, developer ILMxLAB confirmed plans to bundle them into one package on PS4, aiming for a summer 2020 release. Set to bring us a vastly different Star Wars experience than Squadrons, each episode takes under an hour and is more of a cinematic experience. There's also a lightsaber dojo for battling enemies, and this is what will keep fans coming back.
Saints and Sinners received critical acclaim upon launching this year, so The Walking Dead fans may be pleased to know a separate VR game is on the way. Having previously developed Raw Data and Creed: Rise To Glory, Survios' next project is TWD Onslaught. Taking us back to AMC's television universe, it's been confirmed that Norman Reedus, Melissa McBride, and Josh McDermitt will reprise their roles as Daryl, Carol, and Eugene respectively.
Utilising Alexandria as an in-game base, Onslaught promises some rather brutal combat, placing a strong emphasis on its dismemberment system and melee combat. We were disappointed to learn that co-op gameplay was recently dropped, but Survios confirmed that it's committed to a strong single-player experience, and we're looking forward to its eventual release.
---
There's still a lot of life in Sony's VR platform yet. Any particular games you're looking forward to? Let us know in the comments section below.