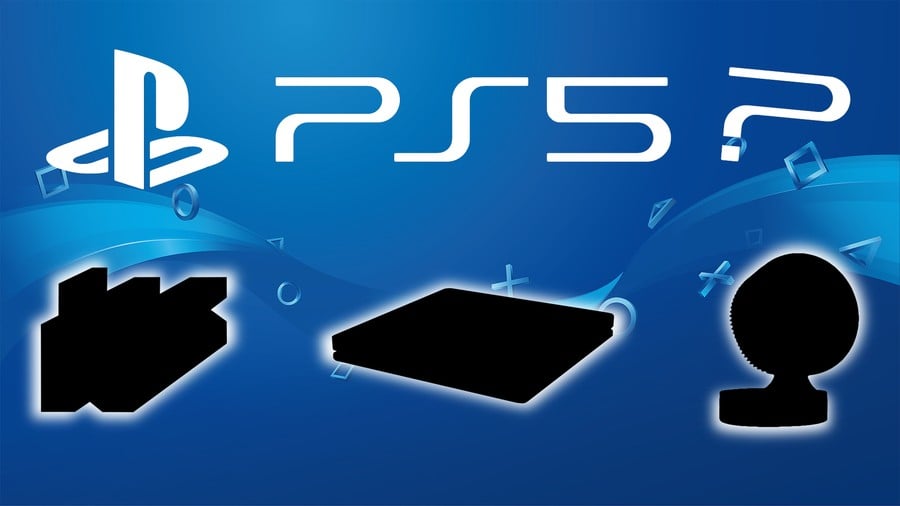 Last week, we presented our readers with a task. We were curious to know what you lot think the PlayStation 5 will look like, and so we asked you to send us your very own designs. If you had a vision for PS5 — be it serious or silly — we wanted to see it. Fortunately, our community rose to the challenge, sending us all kinds of magnificent PS5 designs. Now, it's time we showed them off.
Before we do, we'd just like to say thank you to all those who took the time to join in with this daft idea. We know everyone is sick to the back teeth of waiting for Sony to show us the next-gen machine, so we opened up the floor to you guys to express yourselves, and we're extremely pleased with the results. Let's have a look, shall we?
Note: Please excuse the names we've given to each design. We did this for the sake of the poll below.
Let's start off with the fanciest of the bunch. This PS5 mock-up, by graphic designer and reader Paulo Manso, envisions Sony's next-gen box as a sleek, slimline machine. It has echoes of PS4's design, particularly the slim model, and we really like the way this looks. White looks especially nice, but the black version is great as well. We'd be happy to grab one of these off the shelf.
Here's another one created by a graphic artist. Jacob Estep has presented a simple but quite elegant design here, embracing the two-tone colour scheme of the DualSense PS5 controller. We're not sure if the console is viewed from above or the side here, but either way we like this design's soft edges and minimalist nature.
A great effort here that's probably fairly realistic. Again, this one sticks to what we've seen already with the DualSense, with the majority of the PS5 in white with black playing second fiddle on the lower half. The blue outline is a nice touch — it would be pretty cool if it lights up. Perhaps the colour could change in certain conditions?
The name is partly inspired by the pencil and paper approach and partly by the console's looks. Don't get us wrong, though — we really like this one. It's certainly a very different shape to the norm, but it emphasises the white and black colour scheme and just looks like a neat, futuristic box.
#5: Simplicity Itself by Grimwood
It's hard to argue with this no-nonsense approach. What will PS5 look like? A straightforward box, of course. Thanks for bringing us back down to Earth, Grimwood.
Wait, what? This entry has been made in Super Mario Maker 2, so we have a PS5 made entirely from Mario assets. A very interesting design, but we fear having a logo made out of Bob-ombs might be a little dangerous. The skulls around the edges also suggest this particular console is potentially deadly. An imaginative but unsafe rendering of the PS5.
#7: Fridge Edition by andreoni79
There's something chilling about this entry. It's certainly a cool design, but it reminds us of something, and we can't quite put our finger on what. Oh, wait! Xbox Series X. Got there in the end.
Another attempt at a PS5 design from andreoni79, and we're a huge fan of this one. Implying PS5 will need one heck of a cooling system to deal with its raw power, we wouldn't be at all surprised if this is close to the real deal.
There's a lot to take in here, but this is a fantastic attempt. RogerRoger presents a PS5 with 8K support, literally made up of 8 Ks, each with a disc slot. The SCART input, teraflip-flops, and DualSense rumble pack are also inspired additions. We'll be very lucky indeed if PS5 ends up like this.
Absolutely terrifying. Imagine PS5 rampaging through major cities with deadly lasers; not only would people lose their lives, the console wouldn't fit into our TV stand. Big Ben being set ablaze would be a real shame, considering it's currently undergoing serious renovations.
#11: We Don't Even Know by ralphdibny
We... Okay, so this PS5 console has a face? And it comes with two DualSense controllers... Which are enormous? And you wear them? Look, ralphdibny, we're gonna need some explanation here.
Ah, great. That's cleared it up, thanks.
#12: CernyStation by Octane
Of course. Why waste time having Mark Cerny try to explain to Sony's engineers what he envisions for PS5? Just plug him straight into the box and be done with it. The floating head of PS5's lead system architect is an ingenious focal point, and we imagine he'll also be able to talk to you during games to keep you calm. The jet engine will be an absolute necessity if PS5 really is running off Cerny's brain. Nothing less could keep up with that sort of power.
---
Wow. Once again, thank you very much to all those who submitted a PS5 design. From the gorgeous 3D renders to the absolutely absurd, we love them all. But which one do you like the most? Vote in the poll, and tell us which ones are your favourites in the comments below.