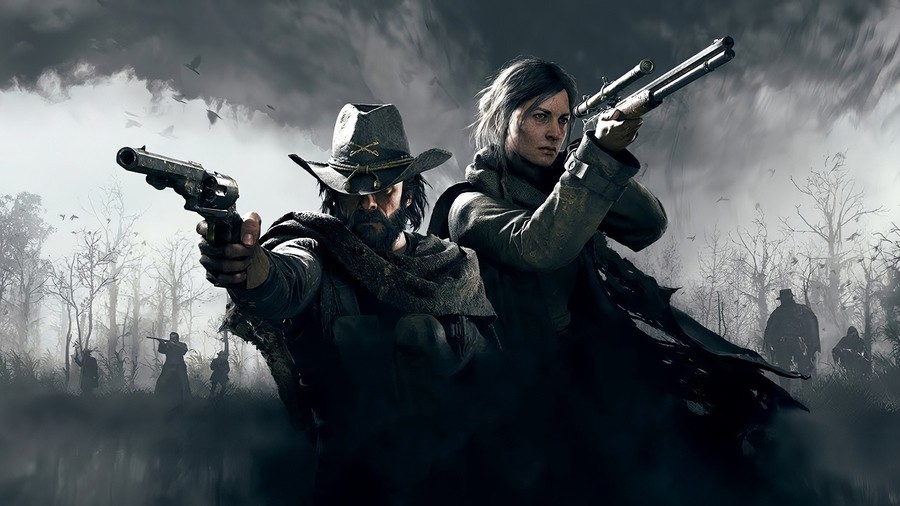 Online multiplayer games come in all shapes and sizes nowadays, but one that has caught our eye on a regular basis as it makes a name for itself on PC is Hunt: Showdown. The PvP experience is finally making its way to PlayStation 4 in just a couple of weeks time, bringing an intense search for clues while either avoiding other players or taking them down to console players. To learn more about Hunt: Showdown, its development story, and post-launch support, we loaded our brains with questions as we caught up with the team at Crytek.
Push Square: To kick things off, please could you introduce yourself to the Push Square community and explain your role at Crytek?
Fatih Özbayram: Hi there, this is Fatih Özbayram and I am the Producer for Hunt: Showdown at Crytek.
Could you explain what type of game Hunt: Showdown is for those who don't know?
Hunt: Showdown is a competitive match-based first-person PvP monster hunter set in the late 19th century swamps of the Louisiana Bayou. That means it's a PvP game with heavy PvE elements thrown in the mix. In teams of two, three or solo (if you're brave enough) you will compete with others to kill monsters for gold. You'll need to decide whether to go all in or just take a small bounty and run. The more risk you take, the higher the reward. That, along with the thrill that comes from literally risking your Hunter's life every match, creates a unique and incredibly intense experience.
Historically, Crytek is probably best known for its work on the Crysis franchise. What inspired the move away from traditional first-person shooters to a more methodical co-op experience?
We wanted to try something new and with Hunt: Showdown we take the most thrilling moments from survival games – which for us are the clashes with other players – and pack them in a match-based format while retaining the fear of loss that makes survival games so incredibly intense. We wanted to create the feeling of gambling with your character's life and strip away the downtimes between the exciting moments.
Hunt: Showdown was in early access for well over a year on PC. How did that period of time help to shape the final product which PlayStation 4 players will get their hands on next month?
During Early Access on PC we collected a lot of feedback from the community which helped us to not only prove the concept but to fine-tune it further and adjust and change our development roadmap together with our community. After all we wanted to build a game that is fun to play and by collecting and reacting to community feedback we believe we have been able to create a unique game that is based on our original concept and vision and got enhanced with features that our community requested. Throughout the process we added a new map, a third boss target, enabled to play as teams of three, added a quick play mode and more. All this will come to PlayStation players soon and we're looking forward to receiving even more feedback from our PlayStation hunters.
How has the porting process from PC to consoles gone? Did Sony help out at all?
Hunt: Showdown is being developed on CRYENGINE, our in-house game engine, which is already production proven on multiple platforms. With the support of our engine team it was relatively straight forward to bring Hunt to PlayStation 4 on our own. Sony was supportive all along.
Alongside the PS4 release date announcement, it was revealed that console users will be able to take advantage of cross-play in the future. Is this a feature important to the team going forward and what other sorts of content should players expect? Will updates be free, paid for, or a mixture of the two?
We're highly excited about the cross-play feature and are currently working on the same. Similar to our PC version we'll constantly bring new content and features for everyone to enjoy to the game as well as paid DLC characters and weapon skins for those who want that little bit of added variety.
Committing to major post-launch support of Hunt: Showdown brings the PlayStation 5 into question. Do you plan on supporting the game well into the next generation?
Currently we focus on supporting Hunt on the current generation and we intend to do so as long as players enjoy the game.
Is there anything else you would like to share with Push Square readers about Hunt: Showdown? Why should they be excited?
We're very much looking forward to bringing Hunt to PlayStation and can't wait to play with our PlayStation community, exchange ideas and gather more feedback for future game updates. We hope to see you in the Bayou soon, Hunters!
---
We would like to thank Fatih Özbayram for taking the time to answer our questions, and Joshua Ball for making this interview possible. Hunt: Showdown releases on PS4 on 18th February 2020.