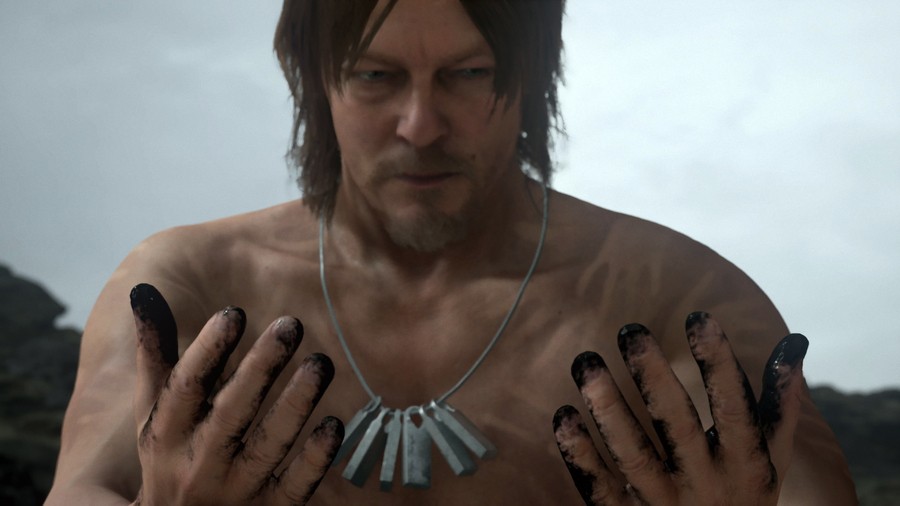 Now we have a firm release date for Death Stranding, we've been thinking about all the trailers released up to this point. The enigmatic new game from Hideo Kojima is a surreal mystery at this stage. With each new video, we're drawn further into the unsettling world as they raise more and more questions. What are the invisible creatures? Why do they fast-forward time wherever they tread? What's with all the weird baby stuff?
Hopefully we'll get some answers soon, but in the meantime, let's take a look back at the videos released so far. If you want to be prepared for the game's release in November, have a watch of the teasers, embedded below in chronological order.
The announcement trailer revealed more than the game's title, as a stark naked Norman Reedus awakes on a blackened beach, accompanied by a tiny baby. Here, we first see the inky black handprints that are prevalent in every trailer, along with five unknown figures floating in the sky overlooking Reedus, who's surrounded by dead sea creatures.
This video introduces two new actors to the cast: Guillermo del Toro and Mads Mikkelsen. The former is carrying a strange vessel with a baby inside, and is seemingly trying to evade an unseen threat. The latter appears to be leading a team of soldiers. He's framed as an antagonist, but his connection to what's going on is unclear.
With this video, the mystery really starts to ramp up. Norman Reedus' character, named Sam, wakes up to torrential rain and two allies, one of which is trapped beneath an upturned vehicle. The threat of the nightmare creatures is turned up to 11; the man stuck under the car ages in seconds, and is mercifully shot in the head by his companion before the baddies can drag him away. Whatever they aim to achieve, it seems to be a fate worse than death, as the same character attempts to kill himself before they can carry him off. It doesn't work, and Sam is flung into a new scene, underwater at first, and then suddenly not. Oh, and there's a baby in his throat.
Last year's E3 trailer grants us an early look at gameplay. We watch protagonist Sam Bridges wander across desolate landscapes, "making deliveries" as he traverses treacherous terrain. Things speed up in the latter half, as we're introduced to another duo of star cast members: Léa Seydoux and Lindsay Wagner. Again, more questions are raised: who are these ladies? And what is that weird grub that Léa eats at the end?
This video is only a short one, but it again introduces a new character -- Troy Baker's man in the golden mask. He seems to be a bad guy, summoning a nightmarish creature from the ground for Sam to deal with.
Here's the release date video. This one gives us our best look yet at gameplay, but it's heavy on story elements too. From badass motorbikes to soldiers rising from the murk, it's one heck of a trailer.
This trailer focuses on a specific character, namely Heartman. The character is modelled after Nicholas Winding Refn, but is voiced by someone else. This trailer reveals that the character is trapped in a 21-minute time loop. At the end of each cycle, he dies and searches the other side for his family before everything is reset. Weird.
In this video, we see that the legendary Geoff Keighley has been immortalised in Death Stranding. It features some brand new gameplay, including urinating, making deliveries, and the need to keep the Bridge Baby calm.
Another character spotlight, this one focuses on the Bridge Baby. We also see Deadman, who's modelled after Guillermo del Toro. Deadman explains how the Bridge Baby acts as a connection point between our world and the world of the dead.
Another character specific trailer, this one introduces us to Mama. Played by Margaret Qualley, Mama is connected to what we can only assume is her deceased child, who's become a BT. As Sam says: "What the?"
We're back to the lengthy trailers with this one. This video introduces us to Amelie, modelled after Lindsay Wagner and voiced by Emily O'Brien, and Die-Hardman, played by Tommie Earl Jenkins. The pair give Sam the lowdown on his mission in this video, urging him to reconnect a ruined America.
This next trailer is the TV commercial for Death Stranding. It's CG, so no gameplay this time. It features Sam going about his mission, only to be chased down by some enemies. It's pretty cool.
---
Are you hyped for Death Stranding? Which of the trailers is your favourite? Expect the unexpected in the comments below.