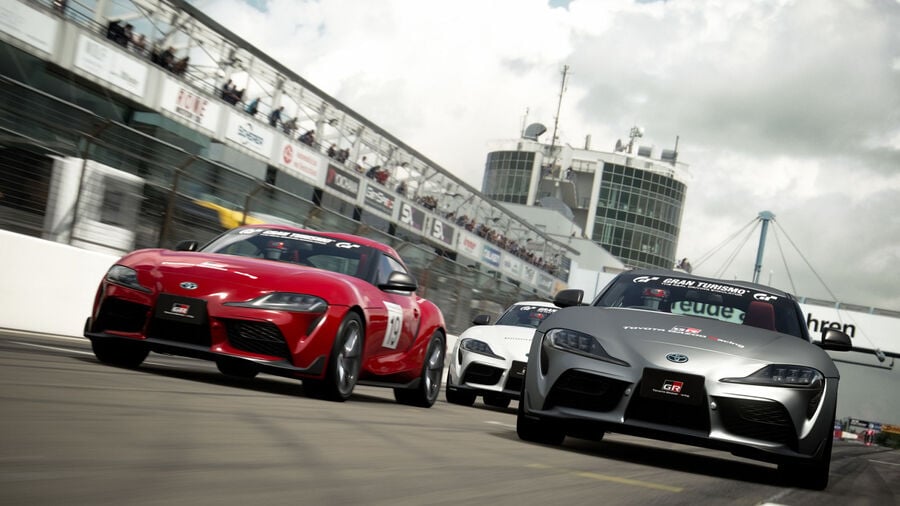 Don't try to update Gran Turismo Sport. Well, actually, let us clarify: Polyphony Digital's popular PlayStation 4 simulation racer is a tremendous game that deserves to be played – just know that by purchasing it in 2019 you're in for a rough ride of updates, patches, and more updates. It's agonising at the best of times.
A new PlayStation Hits version of the title means you'll be able to sit through 'Copy' screens on the cheap, but if you'd like to expedite the entire process, Sony's repackaging the release as Gran Turismo Sport: Spec II, which ships on two discs and comes with a bunch of bonuses out of the box. The best news? It's running v1.39 as standard.
While this code dates back to May – meaning you will have to, unfortunately, endure some patching – it's going to make the whole process that bit more tolerable. The upcoming edition – due out on 4th October – also includes some extras, spanning a 2.5 million credit boost and ten cars. The full list of vehicles is as follows:
Aston Martin V12 Vantage GT3
Chevrolet Corvette C7 Gr.3
Lexus RC F GT3 (Emil Frey Racing)
Mercedes-Benz Mercedes-AMG GT3 (AMG-Team HTP-Motorsport)
Mitsubishi Lancer Evolution Final Edition Gr.3
Nissan GT-R NISMO GT3 N24 Schulze Motorsport
Porsche 911 RSR (991)
Renault Sport R.S.01 GT3
Subaru WRX Gr.3
Toyota FT-1 Vision Gran Turismo (Gr.3)
It's worth clarifying that this new edition is different to the aforementioned PlayStation Hits version, which doesn't ship on two discs and lacks the bonuses detailed above. Nevertheless, it's good to see Sony's flagship racing franchise continue to command premium space at retail – are you interested in this repackaged release at all?
[source gtplanet.net, via twitter.com]