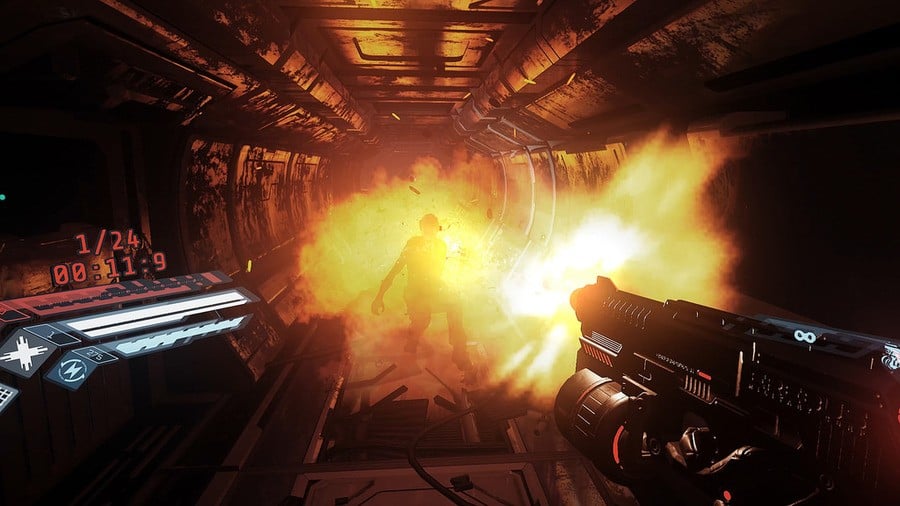 There's no better feeling than when a game you already enjoy gets a huge free update. Firesprite's brilliant PlayStation VR roguelite horror The Persistence is set to receive an enormous patch next week, which bundles in a bunch of new modes and various other bits and pieces at no extra cost. You can't say fairer than that, can you?
Among the additional content is a Campaign+ option, which lets you take all of your gear and upgrades into a second playthrough – albeit with Ultra Hardcore difficulty. The increased challenge means you'll no longer be able to rely on SuperSense to see enemies in cover, but there will be brand new gear and character levels to help you to counter the threat.
There'll also be two totally new arcade-inspired modes named Glass Door and First Blood. The former effectively sees you working through 24 increasingly difficult rooms. You'll be able to pick your weapon at the beginning and will have unlimited ammo, but the catch is that you'll die in one hit. First Blood, meanwhile, is more stealth-based, arming you with a knife and nothing else.
Finally, there's a new permadeath option coming which does away with the roguelite features and challenges you to complete the entire game with a single life. Assuming you've got the stomach to overcome these unforgiving odds, Firesprite's adding a bunch of accessibility features to open up the experience to everyone – including those with hearing impairments.
It's a huge update for an already excellent game, so if you like what you're reading you may be extra thrilled to learn that the title will be going on sale over the Halloween period. Everyone will be able to secure 25 per cent off, while PlayStation Plus subscribers will score an extra 10 per cent on top. And if you still need convincing, check out our review.
[source blog.eu.playstation.com]