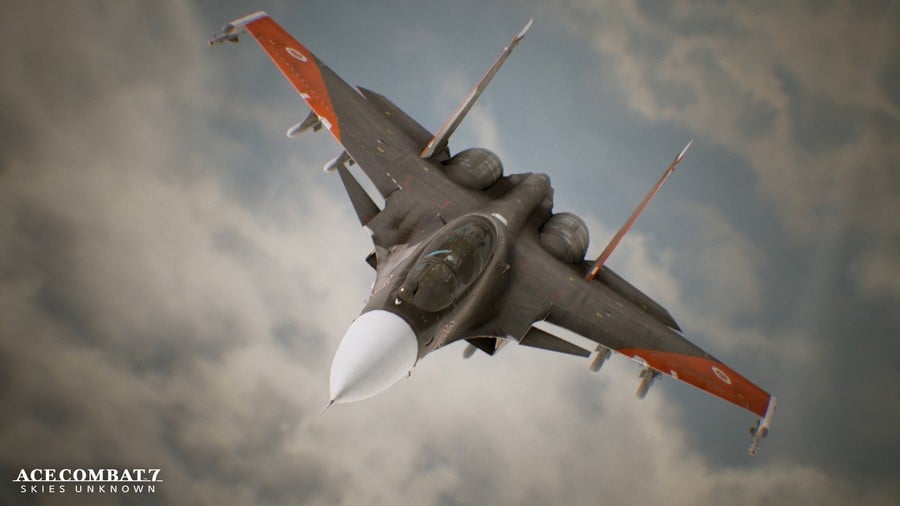 Bandai Namco has announced a collector's edition of Ace Combat 7: Skies Unknown for Europe, and it's a pretty odd package. Called the Strangereal Edition, it's a mostly by-the-numbers jumble of collectable tat, but it's notable for a couple of reasons. As well as a copy of the game, a pin badge, some embroidered patches, and an art book, you're also getting the season pass and a replica figurine of the Arsenal Bird, which you may recognise from previous trailers.
This figurine's wingspan is 40cm -- about 1' 3". It looks like a decent enough model, but who has the shelf space for something nearly half a metre in width? Some special editions include larger statues, but they're usually taller than they are wide. If you did have room, it may look pretty nice, but it's probably fair to say it's a little impractical for most people.
As for the season pass, it's a nice inclusion, but it doesn't sound particularly impressive. Three additional planes, three extra missions, and a music player seems like a pretty weak offering to us. The Strangereal Edition is probably only for the Ace Combat super-fan, then -- especially at €169.99.
What do you think of this collector's edition for Ace Combat 7: Skies Unknown? Would you be able to find space for that figurine? Will you be ordering the Strangereal Edition? Carpet bomb the comments below.
[source resetera.com, via en.bandainamcoent.eu]