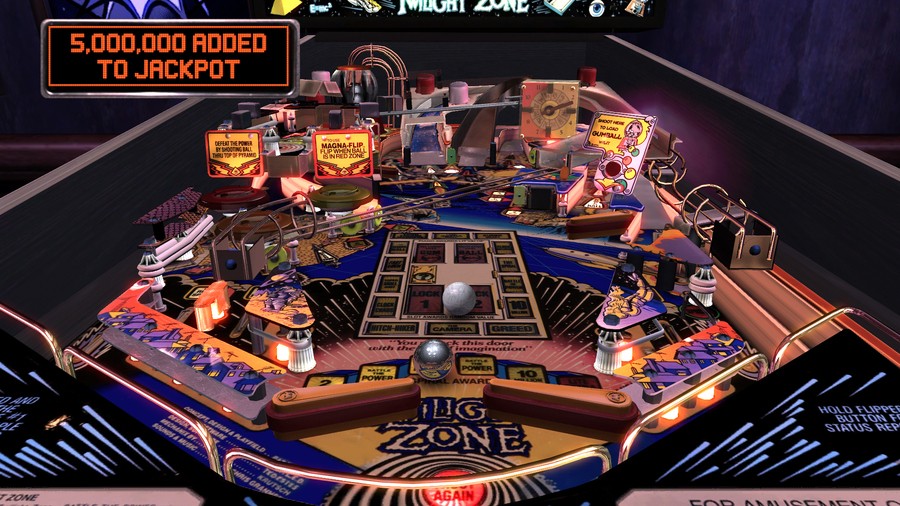 While developer FarSight has mishandled parts of The Pinball Arcade, we always appreciated the attempt at creating an expanding platform filled with realistic-simulations of authentic pinball tables. However, the title's about to be gutted on 30th June, as the studio has lost its license to all Williams and Bally tables.
For an illustration of just how catastrophic this is for the title, here's the content that it's about to lose, via ResetEra:
Williams Tables
Tales of the Arabian Nights (1996)
Bride of Pin•Bot (1991)
Medieval Madness (1997)
Funhouse (1990)
Gorgar (1979)
Monster Bash (1998)
Black Knight (1980)
Taxi (1988)
No Good Gofers (1997)
Star Trek: The Next Generation (1993)
Firepower (1980)
White Water (1993)
Space Shuttle (1984)
Pin•Bot (1986)
Whirlwind (1990)
Terminator 2: Judgment Day (1991)
Fish Tales (1992)
Black Knight 2000 (1989)
High Speed (1986)
Junk Yard (1996)
Diner (1990)
Bram Stoker's Dracula (1993)
Earthshaker (1989)
Cyclone (1988)
Jack*Bot (1995)
Red & Ted's Road Show (1994)
The Getaway: High Speed II (1992)
F-14 Tomcat (1987)
No Fear: Dangerous Sports (1995)
Hurricane (1991)
Swords of Fury (1988)
Firepower II (1983)
Spanish Eyes (1972)
Wild Card (1977)
Sorcerer (1985)
Banzai Run (1988)
Bally Tables
Theatre of Magic (1995)
Cirqus Voltaire (1997)
Creature from the Black Lagoon (1992)
Elvira and the Party Monsters (1989)
Scared Stiff (1996)
Twilight Zone (1993)
Attack From Mars (1995)
Dr. Dude (1990)
Cactus Canyon (1998)
Centaur (1981)
The Champion Pub (1998)
Black Rose (1992)
WHO dunnit (1995)
Party Zone (1991)
The Addams Family (1992)
Xenon (1980)
Safe Cracker (1996)
Judge Dredd (1993)
Fireball (1971)
Indy 500 (1995)
Eight Ball Deluxe (1981)
Doctor Who (1992)
Paragon (1978)
Fathom (1980)
World Cup Soccer (1994)
FarSight's putting on a brave face, confirming it will continue to support the title with new Stern tables in the near future. It's also confirmed that if you purchase any of the aforementioned tables now, they'll be yours to play and keep for as long as the PlayStation Network remains online. Once the 30th June deadline has passed, however, they'll no longer be on sale.
It's absolutely bonkers to think that an enormous body of work like this can be erased from history because of a rights holder, but that's what working with licenses is like. There must be a lot of sombre faces at FarSight right now.
[source facebook.com, via resetera.com]