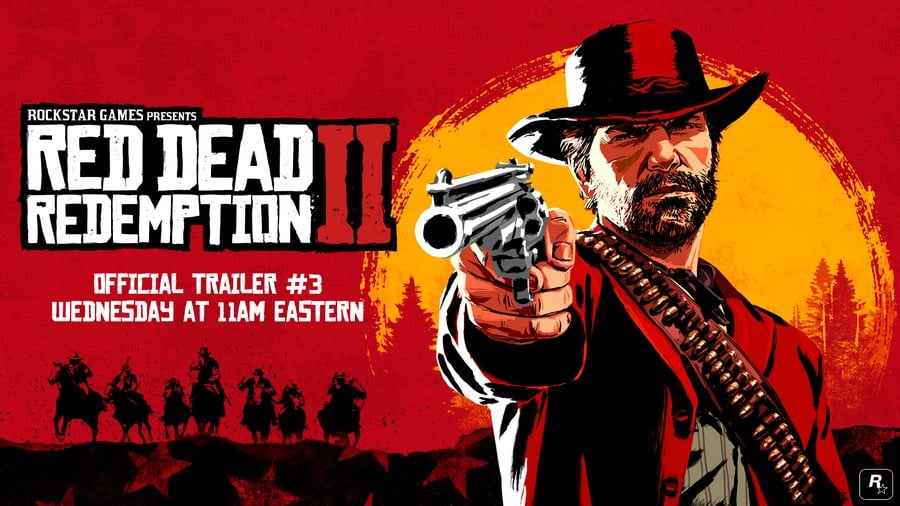 Rockstar is readying a new Red Dead Redemption 2 trailer, but you may be wondering when and where you'll be able to watch it. Fortunately, we're willing to lend a helping hand to you Western fans by sharing everything you need to know.
When will the new Red Dead Redemption 2 trailer release?
The new Red Dead Redemption 2 trailer is set to debut at 11AM EDT on Wednesday, 2nd May. If you want to know what time that is in your time zone, then we've done some conversions for you:
Red Dead Redemption 2 Trailer Times
Wednesday, 2nd May, 2018 @ 11AM EDT
North America: 8am PDT / 9am MDT / 10am CDT / 11am EDT
UK/Ire: 4pm BST
Europe: 5pm CEST / 6pm EEST
Asia/Oceania: 12am JST / 11pm AWST / 1am AEST
Where can you watch the new RDR2 trailer?
Well, we'd love you to come and watch it here on Push Square; we'll get it live as soon as humanly possible. If you absolutely need to sit hitting F5, however, you'll also find it on Rockstar's website and Rockstar's YouTube channel.
What will the new Red Dead Redemption 2 trailer show?
We don't know. With the game under six months away, it seems possible this will be the start of Rockstar's marketing campaign. It could be another story clip, but equally likely is a full blowout; the developer is famous for revealing its open worlds in minute detail, and this could very well be a walkthrough with our first glimpse at gameplay from the anticipated open world adventure.