Monster Hunter: World will soon play host to a couple more guest characters, as Street Fighter's Ryu and Sakura prepare to toss fireballs at oblivious beasts. The full-body armour sets will not only allow you to dress like the aforementioned brawlers, but will also add voice packs so that you sound like the iconic martial artists, too.
But how do you unlock them? Well, starting "in a few weeks", everyone with a Street Fighter V (or Street Fighter V: Arcade Edition) save file on their PlayStation 4 will unlock a new quest named 'Down the Dark, Muddy Path'. Completing this will unlock Street Fighter V Tickets, which can then be exchanged for a Ryu armour set from the Smithy.
Don't worry if you don't own Street Fighter V, as the Event Quest will go into rotation at a later date. "The exact timing is still to be announced," the publisher said, "but during this time, everyone will be able to fight for their Ryu set." Sakura's quests will follow shortly after, alongside Premium Gestures, Chat Stamp sets, and more.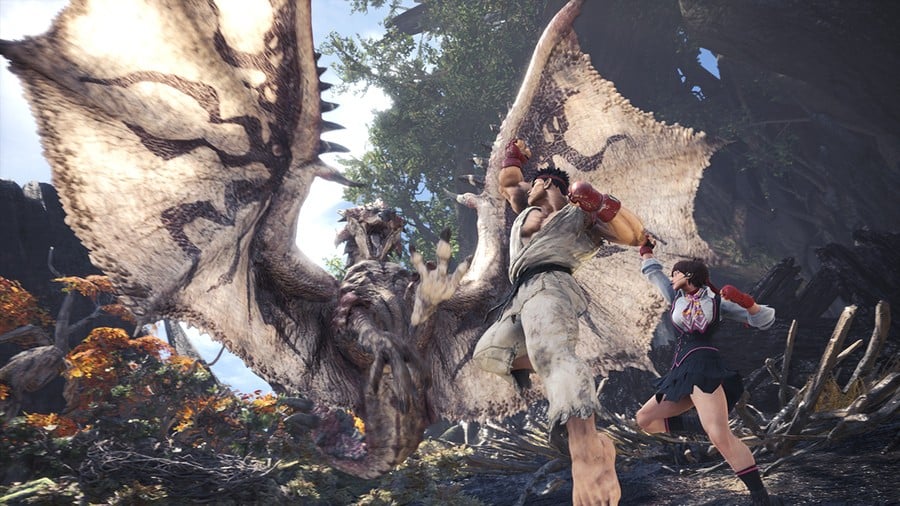 Here's the pricing breakdown for some of the purchasable Street Fighter V content coming to Monster Hunter: World in the near future:
Guild Card: Bonus Stage (free)
Achievements: Rival, Destined, Living Legend and Bandana Girl (free)
Pose: Shoryuken & Hadoken (free)
Gesture: Street Fighter V Hadoken ($3.99)
Gesture: Street Fighter V Shoryuken ($3.99)
Stamp Set: Street Fighter V Set ($1.99)
Bloody Capcom, we want all of this stuff! The company's going to make an absolute fortune off crossover Monster Hunter content, isn't it?