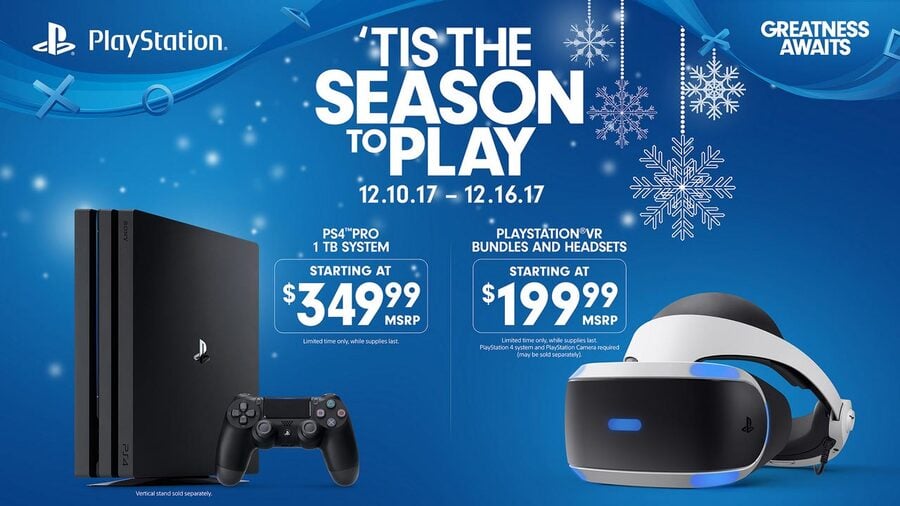 Miss out on Sony's various Black Friday 2017 deals? Not a problem: the platform holder's looking to kill it this Christmas with another round of attractive offers for both the PlayStation 4 Pro and PlayStation VR. Starting from 10th December in the United States through 16th December for the PS4 Pro and 24th December for PSVR, the manufacturer will be plunging the prices of both products – with some serious savings in store.
First up the PlayStation VR bundles: you'll be able to get a headset alongside Gran Turismo Sport for $199.99, which is seriously low. As far as we understand, this is the launch model without HDR passthrough, but if your 4K television demands that then the DOOM VFR bundle will be $299.99 and The Elder Scrolls V: Skyrim bundle will be $349.99.
Elsewhere, if you're in the market for a PS4 Pro, then Sony's knocking $50 off all bundles, with the standard 1TB Jet Black model down to $349.99, and the Limited Edition Destiny 2 and Star Wars Battlefront 2 sets hitting $399.99. There's no word on the PS4 Slim dropping to $199.99 like on Black Friday 2017, but don't rule out more potential savings prior to Christmas. 
[source blog.us.playstation.com]