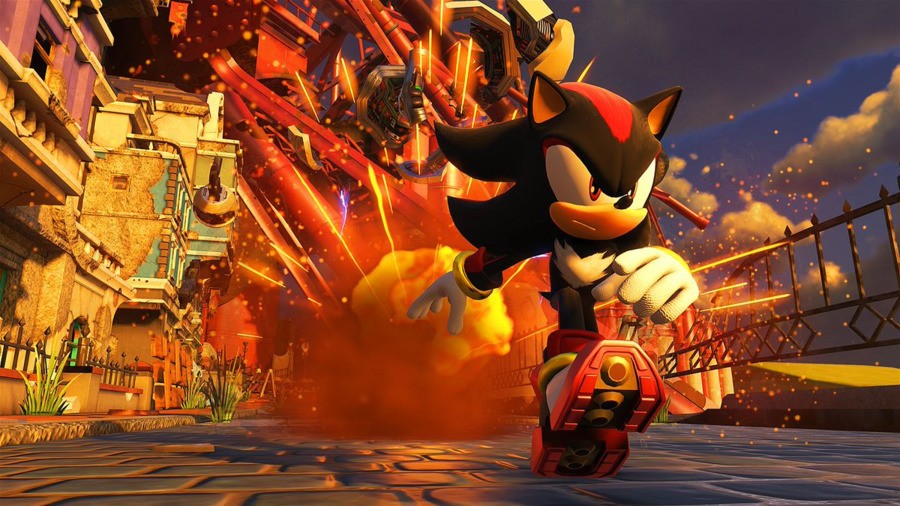 Top-tier Sonic character Shadow the Hedgehog will be playable in Sonic Forces as part of an add-on pack available with the Digital Bonus Edition of the game. Word comes way of an errant listing on the Xbox Store, but we assume it'll apply to the PlayStation 4 version, too. SEGA's yet to comment on the leak, but we suspect it'll pipe up soon.
"Get Episode Shadow to uncover the untold story of the new villain, Infinite, and rediscover three updated stages playing as Shadow," reads the blurb. "Plus, play as Shadow in over 10 Modern Sonic based stages." It's pretty cool that you'll be able to use the edgelord icon in the stages from the main game – adds a bit of replayability, we guess.
The digital bonus edition also comes with Persona 5 costumes, as well as a bunch of classic SEGA skins inspired by titles like NiGHTS into Dreams and Super Monkey Ball. Is anyone fussed about playing as Shadow, though? Really?
Update: SEGA's confirmed that the Shadow the Hedgehog DLC pack will be free to download for everyone, so chalk this up as an added bonus if you're planning to purchase the game.
[source microsoft.com, via eurogamer.net]