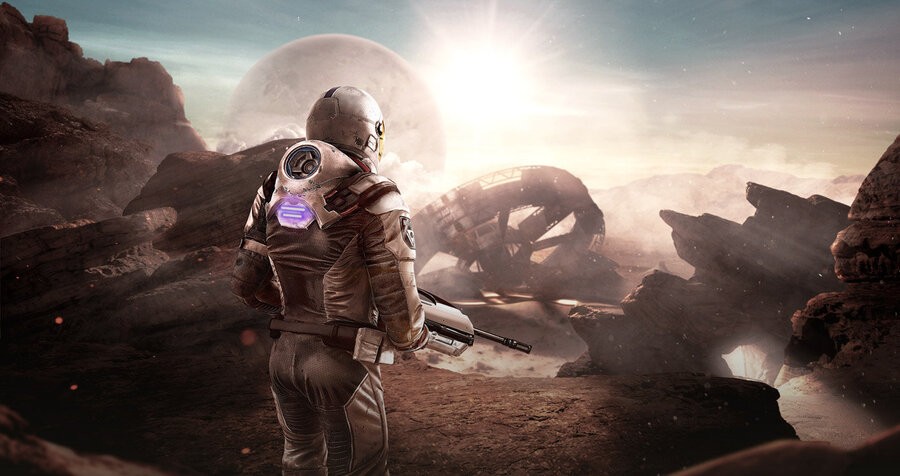 When developer Impulse Gear's Farpoint releases, it will come a few days after Sony's PlayStation VR headset celebrates its seventh month on the market. With anticipation high for the virtual reality shooter, we caught up with composer Stephen Cox to learn a little more about its soundtrack.
Push Square: Audio design in VR is generally much more challenging because of its nature. In what ways did developing a score for a VR game influence the way you approached the music?
Stephen Cox: Initially, we were focused on finding the right sound palette and musical density to match Farpoint's aesthetic. It's such a beautiful, alien landscape and the experience can be quite eerie at times, so matching that musically and sonically was first priority. Once my writing partner, Danny McIntyre, and I cracked that code with the demo, it became apparent that immersion was the elephant in the room. We tried to keep the overall mix placement very wide and reverberant, as if it was a part of the background ambience, to avoid kicking the user out of the immersive experience. This also dictated ensemble size and overall frequency content.
Because of Farpoint being a VR title did you find that you did anything that ultimately ended up not working they way you had intended because of the nature of the title?
We were told early on that a full orchestral score in all its bombastic glory would do a disservice to the game. Also that we should avoid that traditional, big orchestral sci-fi vibe. Although there are a few cinematic moments where we got to do a bit of that, the ensemble size was relatively small for the majority of the cues. The composition and revision process was sometimes subtractive in nature, which I like. It's easier to subtract elements from a score, like chiseling a sculpture, rather than the decision makers saying: "This is missing... something, but I'm not sure what." The other non-orchestral elements (drones, synths, and designed tones) were very rich, detailed, and could stand on their own in certain parts of the game.
What kind of shifts in feel and sound did you go through while arriving at the final sound for the game's music?
Aside from the subtractive shifts in sound due to immersion, I think from the very beginning we were attuned with Impulse Gear and Sony's vision regarding sound and aesthetic. The main reason for that could be attributed to the awesome project brief and the references they provided from the get go.
Is there a particular piece or sequence that gave you a lot of trouble getting it to exactly where you wanted it?
It would have to be the main theme, which happened to be the demo piece that got us the gig. Although it was about 80 per cent of the way there, we put extra time into the revisions and tweaks to make sure it encompassed the overall arch of the game. Seth Luisi, co-founder at Impulse Gear, and Jonathan Mayer, Senior Music Manager at Sony Interactive, pushed us hard and I'm so glad they did. The main theme was really the first piece that went through the collaborative process, which was extremely educational and rewarding. It set the tone for the entire score and the momentum only increased after that.
Is there a standout composition in the score you find yourself especially proud of?
It would be very hard to choose. Of course I love that main theme and am very proud of it, but there are some awesome action cues deep in-game that I really enjoy. I wish I could tell you what their titles are. We are knee deep in the soundtrack production as I write this. Track titles have not been finalised as of yet.
Farpoint explores a dangerous, unknown, and alien world. In what ways did you try and make the music convey these things as well? Any strange instruments? Strange keys?
Great question. Before we laid down a single note, Danny and I spent a lot of time designing the sound palette by recording bowed objects, exotic instruments, and percussive elements that were then manipulated and crafted in the DAW (Digital Audio Workstation). We started with bowing glass, gongs, metals, my dog's ear, etc. We quickly realised that all of the random junk we were experimenting with was hovering around the note B, which informed much of the musical decision-making throughout the score. It was nuts! I also used this busted up trumpet that my brother played back in middle school, which happened to be stuck in B as well. After a lot of huffing, puffing, layering, and tweaking that sound became known as 'Trumbacca', which you will hear throughout the game.
We later brought in an amazing wind player, Kristin Naigus, who has one of the best collections of exotic wind instruments around. After recording about 10 different instruments, I think the bansuri, xiao, and shakuhachi made it into the game. I brought in my colleague Dave Kropf and his kitchen sink of percussive instruments to lay down some of the action sequences. Then we had the rest of my guys from Unified Sounds (Stephen Wheeler and Skitch Schiciano) go field recording for insane tones and impacts. We now have one of the most comprehensive dumpster sample libraries around. All of these elements were used in a textural or supportive nature within the score, but the solo violin, cello, and strings really drove the melodic content. Big thanks to Scott Burns, Julia Gessinger, and Sabrielle Augustin for their amazing string work!
Any particular scores you looked to for inspiration while developing the music for this game?
In the beginning, our biggest inspiration came from Sony references or the Style Guide. We studied some recent (and not so recent) sci-fi film scores like Interstellar, The Martian, even Alien. These references definitely helped us hone in on the emotional tone and vibe initially. I personally loved the score from Gravity by Steven Price at the time. However, that kind of sound was a little too "big" for Farpoint's immersive experience.
When you are working with a music team like the guys at Sony Interactive, who are juggling a dozen other projects at any given moment, they know how to describe and articulate exactly what they want. They also know how to probe and decipher what the developer wants in order to communicate effectively, minimising the back and forth. Chuck Doud, Jonathan Mayer, and the rest of the music guys at Sony Interactive are the unspoken heroes of this industry in my opinion. It was inspiring just being able to work with them.
And finally, how did you end up making music for games? What brought you to the medium?
Stephen Cox: Composing for games has always been on my bucket list. It was all about finding the opportunity and impressing the right person. I met my good friend, Jonathan Mayer, at a Full Sail VIP event several years ago, when I used to teach there. He would fly out to Full Sail regularly to do guest speaking and Master classes. During these events, I would pick his brain relentlessly and made sure we kept in touch. Then he offered us an amazing opportunity. My production house, Unified Sounds, was initially commissioned to do a series of background tracks for an "unannounced" Sony project, many months before Farpoint. It was amazing working on the proof of concept with Jonathan's music team. So after we got our feet wet, we were given a shot at the demo. I brought in Danny and we gave it everything we had (in about five days) including live strings and a whole lot of production work. I can safely say that scoring for this medium is one of the most exciting and rewarding experiences of my career.
---
And there we are: a peek into the process of making the soundtrack for a VR title. We'd like to thank Stephen for taking the time to answer these questions for us.