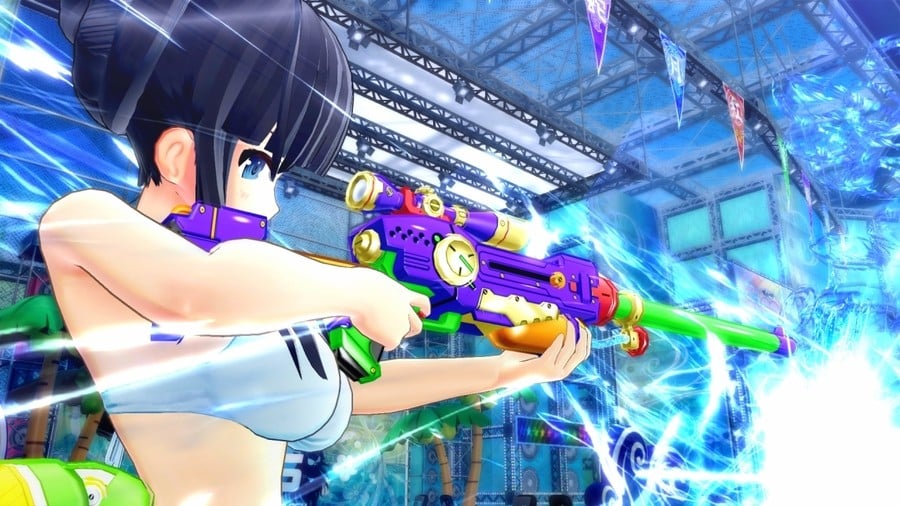 The Senran Kagura series has never shied away from its shameless portrayal of buxom female ninja, but it's taking a step back from its hack and slash roots with Senran Kagura: Peach Beach Splash. The upcoming spin-off takes the ladies to the beach, where they don bikinis and soak each other with a range of water guns. We haven't heard a great deal about the summery shooter up to this point, but now that Siliconera has translated a lot of the juicy details from the title's official Japanese website, we have to admit that it's sounding like an interesting project. Ahem.
Essentially, Peach Beach Splash is Splatoon - Nintendo's successful Wii U shooter - but with way more bikinis and... bouncing bits. Naturally, the goal is to drench the opposing team with watery weapons of your choosing, from quick firing pistols to super powered shotguns that unleash huge amounts of liquid in one concentrated blast. You'll be able to upgrade your arsenal over time, customising your loadout and discovering the ultimate selection of soakers. It obviously sounds completely stupid, but hey, dumb takes on established genres can sometimes turn out pretty well.
Peach Beach Splash is out on PlayStation 4 in Japan next March, but are you up for this one? Get the perfect bikini body in the comments section below.
[source senrankagura.marv.jp, via siliconera.com]