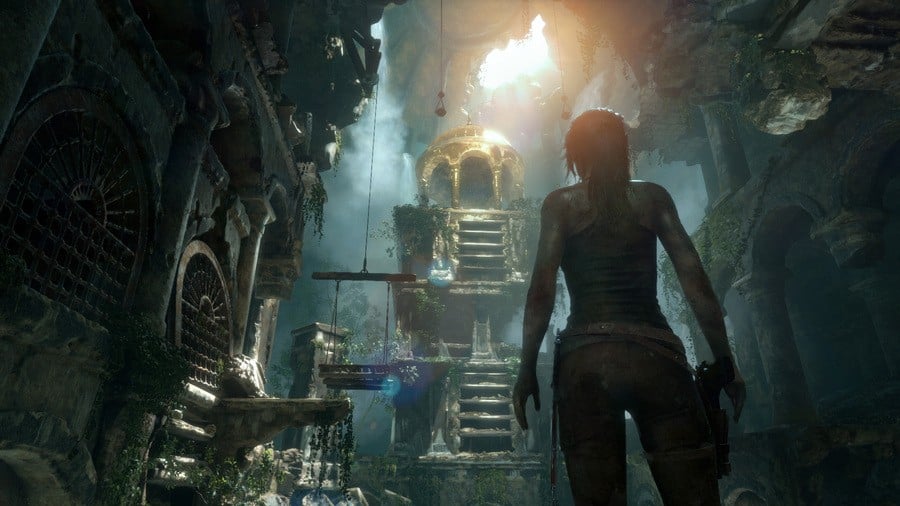 Yesterday we published a poll regarding Rise of the Tomb Raider's release date rumours. While we were confident in the source, we didn't expect Square Enix to come out and confirm the news today – but it has. As previously reported, the action adventure will deploy on the PlayStation 4 on 11th October, and, while nothing's been officially confirmed yet, it looks like the publisher really is going to charge full price.
But the good news is that it genuinely has gone the extra mile with this fashionably late foray. A whopping 61 per cent of you said that you wouldn't buy the game for $60 yesterday – even if it did come with a bunch of extras out of the box. But has this list of add-ons changed your mind? Here's what Crystal Dynamics – in collaboration with long-term partner Nixxes – is packing into the PS4 version of Lara Croft's latest:
Rise of the Tomb Raider PS4 Contents
Rise of the Tomb Raider's core campaign.
All previously released DLC (including Baba Yaga: The Temple of the Witch, Cold Darkness Awakened, 12 DLC outfits, 7 DLC weapons, and over 35 Expedition Cards).
All-new Blood Ties story expansion, which is optionally playable with PlayStation VR.
All-new Lara's Nightmare arcade shooter add-on.
All-new Endurance co-op mode, playable online.
A bonus difficulty tier for the single player campaign, Extreme Survivor.
Five classic Lara Croft character models.
Brand new Tomb Raider III-inspired costume and pistol.
That's a helluva lot of content to stuff into one re-release – above and beyond what we ever expected. But is it enough for you? Let's run this poll one last time, and then we can all get on with our lives, eh?
Now will you buy Rise of the Tomb Raider PS4 full price? (170 votes)
Yes, all of that extra content's twisted my arm
28%
Eh, I was always going to pay full price anyway
16%
No, I'll be waiting for a sale irrespective of extras
44%
FFS, I told you yesterday – I'm not interested in it
11%
Please login to vote in this poll.