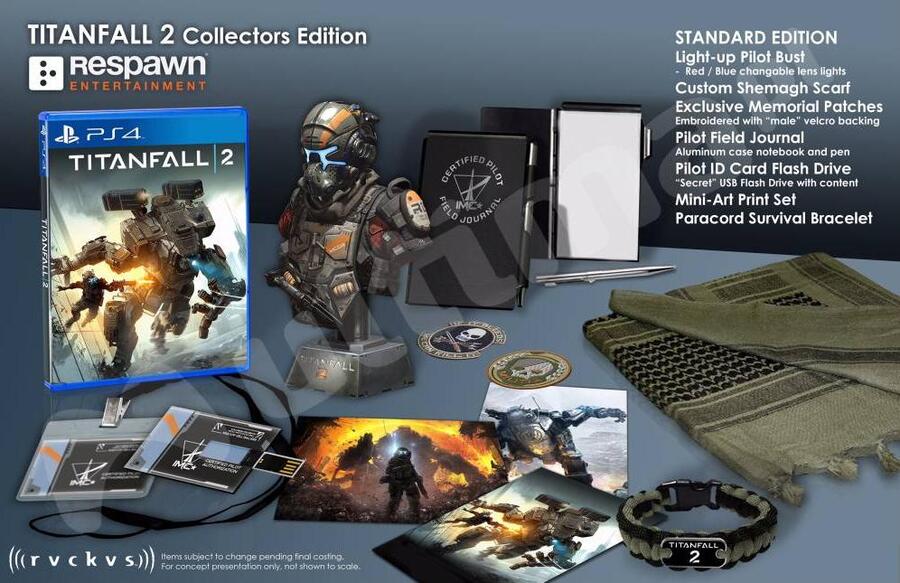 Have you seen Titanfall 2's collector's editions? To be brutally honest, we don't think that you're supposed to have – but the embedded images have leaked from a Polish retailer's website. The fascinating thing is that there appears to be two sets to choose from – one's clearly not enough for a title of this magnitude.
The sets are generally similar, though. The so-called 'Standard Edition Collector's Edition' comes with a light-up pilot bust, a scarf, some "memorial" patches, a field journal, a flash drive shaped like an ID card, a mini-art print set, and a survival bracelet. No word on a price for that little lot yet, but we have a sneaking suspicion that it'll be too high.
The other package, named the 'Uber Edition Collector's Edition', will presumably cost even more, and comes with a replica pilot helmet with mountable accessories like a flashlight, as well as a scarf, "memorial patches", field journal, and the aforementioned flash drive. We assume that both of these will be officially announced at E3 2016.
[source ultima.pl, via neogaf.com]