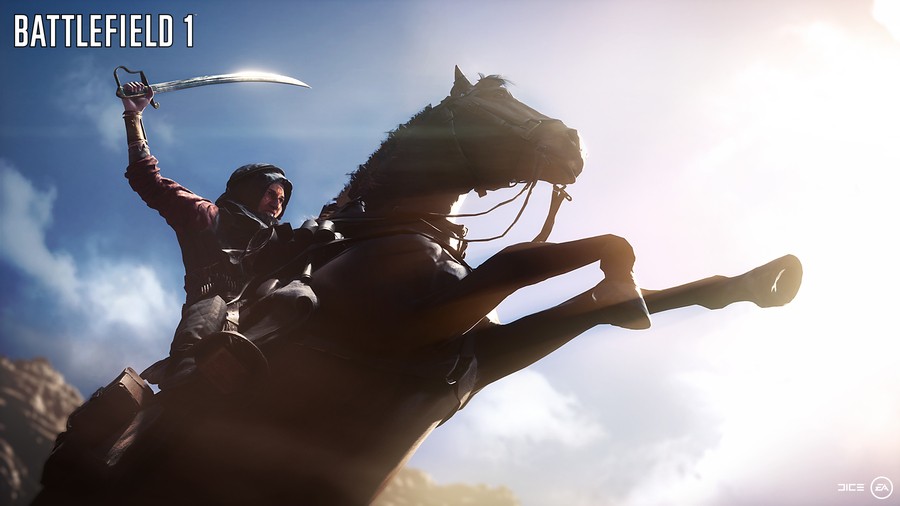 As rumoured, Battlefield 1 will whisk you away to World War I – a return to the historical action of yore before the entire industry moved into the modern military space. The title will apparently take you on a tour of combat bowls across the globe, from "a besieged French city to the heavily defended mountain forts in the Italian Alps to frantic skirmishes in the deserts of Arabia". There'll be a single player campaign which will put you into the trench boots of various different soldiers, as well as 64-player multiplayer. Battlefield Insider members will get early access to a beta.
The game will release on 21st October globally – not 18th October, like originally reported. However, if you pre-order the Early Enlister Edition – which includes the Red Baron Pack and the Lawrence of Arabia Pack – you'll get it three days earlier. Also, whichever edition of the game you pre-order, you'll also get the Hellfighter Pack, which includes some bonus weapons and an exclusive insignia. The press release says that you'll also get seven days early access to an unnamed map, too – developer DICE sure does enjoy splitting its fanbase.
The WWI setting obviously means that you'll be commandeering a wealth of different vehicles, including tanks, bomber planes, bi-planes, and… Yes, horses! Gas masks will add a new strategic element to the gameplay, while brutal melee weapons will complement the roster of historically accurate pistols, machine guns, shotguns, rifles, and flamethrowers. And yes, the Swedish studio's promising some outrageous destruction to add a little spectacle to the skirmishes. We'll see more during publisher EA's pre-E3 event next month.
Happy with this? Disappointed? How do you think that it compares to Call of Duty: Infinite Warfare? Check out the assets, and let us know what you think in the comments section below.
Battlefield 1's Collector's Edition will cost you a pretty penny at $219.99 from Amazon, but does come with a bunch of bonuses, including a deck of playing cards, a statue, a cloth poster, a patch, a steelbook case, and a messenger pigeon tube with a DLC code inside.