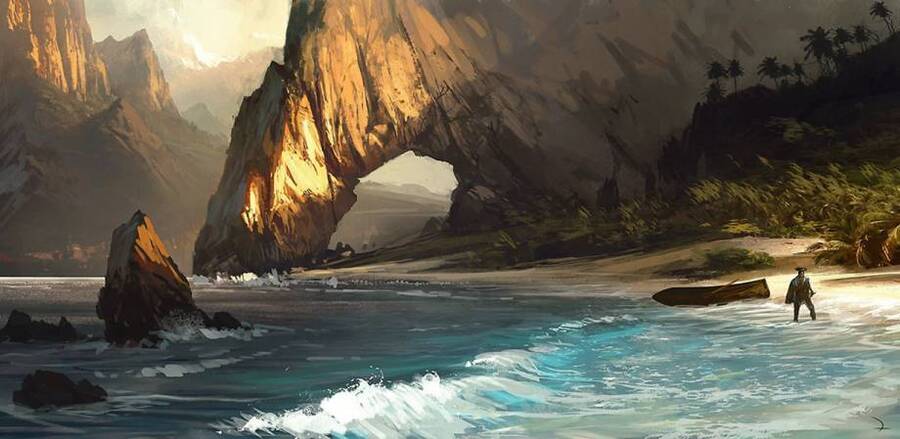 Hmmmm, what's all this, then? In case you missed it, a new Uncharted 4: A Thief's End trailer was revealed today, and it's really bloody good - so you should go check it out through here. However, good trailer or not, it seems as though developer Naughty Dog may have been, well, a bit naughty.
There's a part in the video where the camera focusses on a painting that's hanging on protagonist Nathan Drake's wall. It's only there for a second, but eagle eyed Ubisoft employee Azaïzia Aymar noticed that the image is actually concept art from Assassin's Creed IV: Black Flag. Oops.
"Woooow Uncharted 4 using one of ACIV artwork in their trailer... I get the "thief" title now!" Aymar wrote on the social media site. From what we can tell, it's definitely the same picture, except that in Uncharted 4, the pirate figure on the right has been removed.
So, what does it all mean? Has Naughty Dog gone and lifted some concept art from another game and thought that no one would notice? Well, it's certainly possible, although it's worth noting that many studios have good relationships with one another - so there's a chance that all of this is being overblown. That said, for Aymar, who's currently head of content for the Assassin's Creed franchise, to point it out and make such a comment, you wouldn't be blamed for thinking that something a bit more dishonest has happened here.
In any case, what do you make of this? Try not to steal other people's opinions in the comments section below.
[source twitter.com, via eurogamer.net]