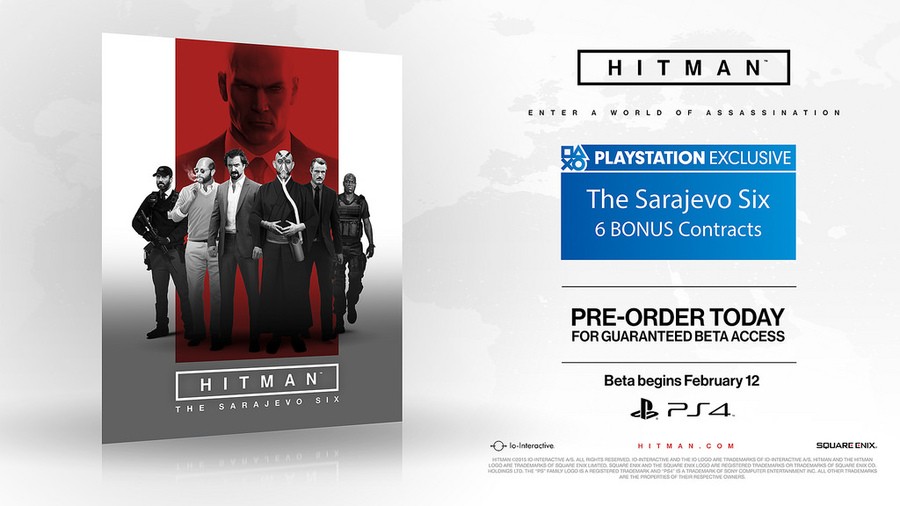 Much has been said about Hitman's unorthodox episodic release schedule, but we reckon that – the aforementioned aside – the game's really shaping up great. We were lucky enough to get a behind-the-scenes demo of the assassination sim's Paris stage late last year, and we think that franchise fans are going to be really happy with the reboot – assuming that you can get beyond the roll-out model.
Either way, Square Enix has confirmed that the title's beta will be launching first on the PlayStation 4 next week, with those who pre-order either the Intro Pack or Full Experience from the PlayStation Store guaranteed access from 12th February. If you're getting the physical Collector's Edition, then you'll be eligible as well. Remember, the standard retail release won't arrive until later in the year. Keeping up?
There's more good news for PS4 players in the form of six exclusive contracts. These – dubbed The Sarejevo Six – will see you assassinating former members of a paramilitary unit called CICADA, and there'll be one in each location. This means that the first bonus contract will be available alongside the main game on 11th March, with the rest being rolled out alongside the extra locations.
Trying to explain this game's launch model is a legitimate nightmare, so we apologise if you're a bit confused; we rarely pass the buck, but this is Square Enix's fault. One final easy thing to explain is that all pre-orders will come with the Blood Money Requiem pack, which bundles a chrome weapon, white suit, and explosive rubber duck. How could you possibly resist?
[source blog.us.playstation.com, via blog.eu.playstation.com]