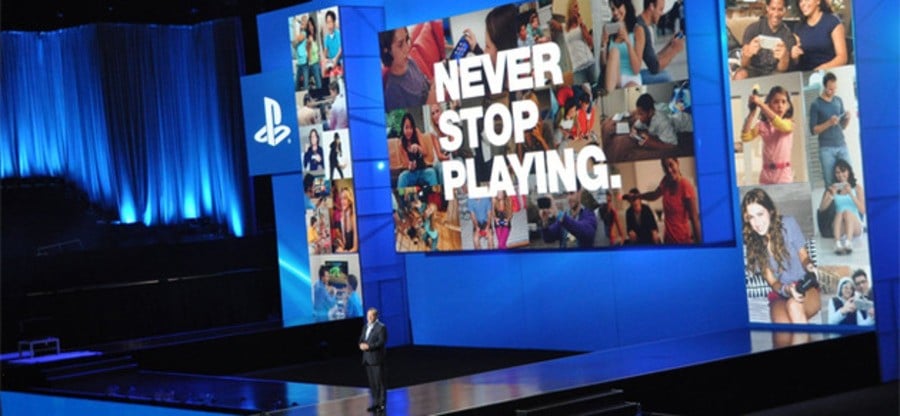 It's the most wonderful time of the year. E3 2015 is right around the corner, and the web is awash with ridiculous rumours, last-minute leaks, and armchair analysts getting agitated over all of the early announcements. For many of you, though, it'll be those big pre-show press conferences that'll be knotting your digestive tracts – will the platform holders be able to justify your console purchases with a jaw-dropping show?
We're not going to propose to know everything that Sony's going to announce, but we cover the wonderful world of PlayStation every single day, and we certainly have a rough idea of what may be printed on SCEA boss Shawn Layden's top-secret agenda. What you'll find below are a series of predictions for the Japanese giant's presser; they're not confirmations and should not be taken as such – but we've attempted to justify each item with evidence.
So, strap yourself in, brew yourself a fine cup of coffee, and allow us to talk you through our predictions for the PlayStation 4, PlayStation 3, and Vita at this year's Los Angeles convention. It's going to be a bumpy, busy ride.
---
What time do you call this?
The day that Sony starts a press conference on time will also be the day that Hell freezes over. While the platform holder has set an 18:00PM PT start time for its hotly anticipated presser, seating issues and behind-the-scenes catastrophes usually set it back by at least ten minutes. It wouldn't be E3 without Twitter engaging in a round of 140 character social thumb twiddling, so expect plenty of that before the Japanese giant plays its customary montage and welcomes SCEA gaffer Shawn Layden onto the stage.
Sell us on the show
Layden, who was anchoring his first E3 following the departure of seasoned veteran Jack Tretton last year, seemed much more comfortable at PlayStation Experience in December, so we're expecting him to be a little more composed this time out. While we suspect his hands will be as animated as ever, we're expecting the PlayStation president's pre-amble to incorporate some updated PS4 sales statistics, while also offering a brief overview of the company's philosophy moving forwards. Both the PS3 and Vita will likely get token mentions here – but don't expect them to be mentioned again.
Size really does matter
While we don't expect Layden to be on the stage for long, we do reckon that he'll be the one to introduce the 1TB PS4 console. This was leaked by an FCC filing earlier in the year, and with Microsoft also upping its own hardware's hard drive, it's certain that Sony will follow suit. Most interesting will be the new model's price point; we can see it flogging the 1TB for $399.99, and dropping the 500GB to $349.99 – essentially matching the price points of the Xbox One. Don't be surprised if it doesn't also continue including a first-party game with all systems, such as The Last of Us Remastered.
---
Exclusives are important
Despite being on fire in the first-party department throughout much of the previous generation, there's a definite sense of unrest among PS4 owners right now. Many claim that it's not putting out enough exclusives, and a barren Christmas lineup is not helping matters. It's important to remember, however, that it's already released a Game of the Year candidate in Bloodborne this year – clearly the company prefers to promote its wares earlier in the year, rather than during the holiday rush. Never the less, we expect Worldwide Studios executives Shuhei Yoshida and Scott Rohde to try and address some of these complaints during the PlayStation press conference.
Uncharted territory
There's no doubt that Uncharted 4: A Thief's End will be biggest PS4 exclusive at this year's E3. We've already seen the big poster of protagonist Nathan Drake loitering over the LA Convention Centre, and this is the "big one" for Sony – even if it's been delayed. A hearty slice of single player footage played live on stage seems inevitable, but following the 15 minute presentation at PlayStation Experience, we'd expect a shorter set-piece this time around. We suspect that a couple of returning characters will be revealed – Elena and Sully seem like certs, for example – and a trailer including a March release date will likely conclude the presentation. We also wouldn't be surprised to see some form of multiplayer footage, with a reminder that you'll be able to play the beta exclusively with Uncharted: The Nathan Drake Collection.
Somewhere on the Horizon
Guerrilla Games has been working on a new, non-Killzone property for what feels like an eternity now, and with the unrest regarding exclusive releases, we reckon that Sony will announce it at E3. Managing director Hermen Hulst will likely take to the stage to introduce this one, but don't expect much more than a trailer. By all accounts, the game is an open world role-playing release set on a faraway planet inhabited by robot dinosaurs. The studio's recruited Fallout: New Vegas' writer to pen the story, so there's real pedigree here. And if nothing else, you can guarantee that it will look absolutely stunning.
More yarns from Yharnam
Bloodborne's thunder may have been stolen somewhat by The Witcher 3: Wild Hunt, but it's still undeniably one of the best games of the year so far. Shuhei Yoshida has already confirmed that an expansion is in the works, and we expect him to outline it in a little more detail during the platform holder's press conference. Some harrowing new areas filled with fresh enemies and bosses would certainly leave us praising the moon, so we reckon that this would be a very welcome reveal.
The last hope for The Last Guardian
And while he's on the stage, what better man could there possibly be to re-reveal The Last Guardian for the PS4? Yoshida has been badgered by both the press and his Twitter followers for years regarding Fumito Ueda's long overdue PS3 game, but sources suggest that this is the year that it will finally be re-announced. This really does feel like last chance saloon for the Shadow of the Colossus creator's boy-meets-bird game – after all, it's been many years since we last saw it, and the patience of fans will surely expire without an announcement of any kind this time.
And everything else
Despite the complaints, Sony does have a lot of first-party games announced. Tearaway: Unfolded and Until Dawn are both due out imminently, and are likely to feature as part of some kind of closing montage, which will also include hints at Ratchet & Clank, RIME, Everybody's Gone to the Rapture, Wattam, What Remains of Edith Finch, and many more. We don't expect the platform holder to linger on these titles for too long – they're known quantities at this point – but they're still important enough to earn a few seconds of footage during the show.
---
The co-marketing collection
We upset a lot of you earlier in the year when we suggested that Sony's press conference will be all about third-party games – but our stance hasn't change. The platform holder's simply signed too many partnerships with other publishers for that not to be the case, and so we reckon that the bulk of the manufacturer's show will be dedicated to spotlighting those. Expect many of the games demoed to include extras for PlayStation owners – be it downloadable content, hardware bundles, or betas. Adam Boyes, who's in charge of the organisation's third-party operations, will likely anchor most of these – but we suspect there may be one more reveal from Shuhei Yoshida first.
Prepare to die
Dark Souls III has leaked hard over the past few days, so we can pretty much guarantee that it's in development. While it won't be an exclusive, we can't see it being announced anywhere other than Sony's stage – unless Microsoft really wants to appeal to the From Software crowd. Personally, we could see Yoshida introducing this as a "one last thing" kind of announcement before leaving the stage; don't expect a whole lot more than a teaser trailer at this point, though.
Here comes a new challenger
One of the few games in this category that will actually be an exclusive, Street Fighter V's a big deal for Sony, and will have the platform holder's most powerful spotlight pointed at it. The firm has egg on its face following the disastrous port of Ultra Street Fighter IV, but some new character announcements for Capcom's surprise sequel would probably go some way to healing the fighting game community's wounds. We'd also expect some kind of release date to be announced; speculation suggests it's due out in March 2016.
The call of duty
This would be a big coup for PlayStation, but we're not as confident in this prediction as we are the others. Speculation suggests that Activision will sever its exclusivity relationship with Xbox this year, and that means Call of Duty: Black Ops III could appear during Sony's press conference. It's a long shot and it may not be all that interesting to many of you, but should that be the case, it would underline just how much the Japanese giant has turned things around since last generation. And with Star Wars: Battlefront already under its umbrella, its lack of exclusives this holiday may not matter – it could have virtually every big Christmas game under its umbrella, after all.
The season of stealth
Assassin's Creed has always partnered with Sony since its inception, but it spent last year on Microsoft's stage. Immediately following the announcement of Assassin's Creed Syndicate earlier this year, though, the Japanese giant updated its YouTube channel with key art from the game; this is usually a sign that some kind of deal has been struck. If that's the case, expect PlayStation to secure some kind of exclusive content – or perhaps even a special edition bundle. The platform holder will also likely show a trailer from the game – while offering something similar for fellow stealth-'em-up, Metal Gear Solid V: The Phantom Pain.
In a galaxy far, far away
With hype in The Force Awakens about to reach intergalactic levels, Star Wars: Battlefront may just end up being one of the biggest games of the year. And it seems that Sony's had the foresight to identify that, with the title's first trailer being bookmarked by PlayStation icons. We suspect that the game will receive a stage demonstration during Sony's show, perhaps highlighting a different mode or map to that introducing during publisher EA's own press conference. Don't be surprised if the PS4 also attains some exclusive content, as well as a couple of limited edition hardware bundles based on the sci-fi brand.
Not you again, B-man
Batman: Arkham Knight is due out days after E3 is scheduled to finish, so we doubt that its presence is going to be all that pronounced. Sony does, again, have a co-marketing deal with this game, though, and with millions of gamers tuned in to its show, you can probably expect it to debut some kind of launch trailer for the title, reminding us of the PS4 exclusive content and the slick silver hardware bundle set to launch alongside the game. At this juncture, we wouldn't be surprised if Fallout 4 also received similar treatment, as the Japanese giant did announce some kind of partnership with Bethesda eons ago, which was never really outlined in enormous detail.
King power
Destiny is getting a big expansion this year named The Taken King, which means we're going to have to endure more announcements from Bungie during the PlayStation press conference. Considering that this is due out in September – according to speculation, anyway – we anticipate a big blowout, including pricing information, content details, and, likely, a gameplay demonstration. There's no doubt that the PS4 will include some exclusive content as usual, but it'll be interesting whether Sony still considers this a big enough deal to secure some kind of console bundle.
Persona, pls
Persona is on the cusp of some kind of mainstream breakthrough, and as a PlayStation exclusive, we'd be staggered if Sony isn't putting its full weight behind sequel, Persona 5. It's possible that Third-Party Productions chief Gio Corsi may reveal some kind of collaboration with SEGA and Atlus, as the company helps to get the game out globally in a timely manner. Assuming that this division does get some stage time, we'd also like to see some more Yakuza announcements – perhaps localisation of Yakuza Zero – even if it doesn't seem like something that would maybe be worth the stage time.
Indies are games, too
And onto the impossible to predict third-party finale: indie games. Sony's been a fan of showcasing these on stage since its Indie Seven in 2013 garnered such a great reception, and we suspect that it will do something similar this year. No Man's Sky will likely once again lead the charge, with hopefully some kind of release date at the end of it. The rest of the lineup, however, is almost impossible to predict – who knows which studios the organisation will have partnered with this year?
---
A virtual reality
With the big games out of the way, it wouldn't be a PlayStation press conference without some kind of lull, and we expect Andrew House to take to the stage to talk Project Morpheus, as well as some of Sony's wider initiatives. There's no doubt that the Welsh executive is a great speaker, but this is the part of the conference where we expect viewers to get antsy – and the Twitter heckling to begin in earnest.
Roadmap to Morpheus
Project Morpheus does not yet feel like a real product – it's a research project that Sony just so happens to have been touting for the last couple of years. But if it's going to release in 2016, then the company needs to give us more information: what's it called? How much will it cost? Roughly when can we expect it to release? Will it require PlayStation Move controllers? Will it come with the PlayStation Camera? There are so many questions that the company needs to answer, and while it'll still have Paris Games Week and PlayStation Experience to answer some of them, it needs to start laying out its plans now.
Eyes-on the software
We reckon that demoing Project Morpheus games on stage would be a recipe for disaster – so it's something that will probably happen. Either way, if the headset's going to be a success, it's also going to need software – and Sony will need to show a handful of launch titles from both third-party and first-party developers if it's going to give the headset a shot a success. Expect content from teams like London Studio and perhaps even Sports Champions developer Zindagi. Just pray that no one walks on stage wearing one of the devices and flailing their arms around.
---
The obligatory other initiatives
This is the part where everyone tunes out and declares that Sony has lost E3. It's the business bit; the part where Andrew House is obliged to talk about services that no one cares about because the rest of Sony Corp is desperate for a few seconds of relevance. It's time to turn down the conference volume and compose the snarkiest NeoGAF comment that you can possibly come up with.
Everything was PlayStation
Sony's unified all of its network services under the PlayStation umbrella: PlayStation Now, PlayStation Vue, PlayStation Video, PlayStation Music, and there are probably more. Expect updates on all of these services, as well as references to PlayStation Plus and its new-found success. We doubt that there'll be another Powers moment, but there will be mention of its previously announced second season, as well as potential new show reveals, too. There'll probably be a new trailer for the Ratchet & Clank movie during this segment, too. Basically, corporate backslapping all around.
The wrap-up
And with the room deflated, it'll be down to Shawn Layden to return to the stage and wrap up the conference. The conclusion will likely link back to his opening speech, with references to various announcements supporting his opening pre-amble. One more thing announcements are always possible, and the platform holder will want to end on a high-note, so maybe the order of the conference will be re-arranged to what we've got written down here. If we were Sony and it's ready for its big re-reveal, we'd close the press conference with The Last Guardian, but we'll have to wait and see what it selects.
---
Which of the above predictions excite you, and which segments could you do without? Collect your tickets for the hype train in the comments section below.
How good do you think PlayStation's E3 2015 press conference will be? (69 votes)
Very Good

25

%
Good

55

%
Average

17

%
Poor

3

%
Very poor

0%
Please login to vote in this poll.