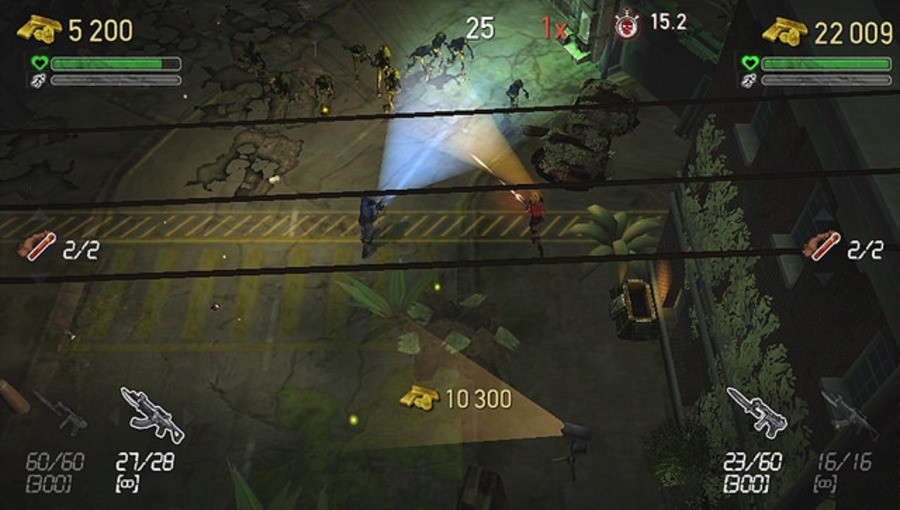 If you haven't already had your fill of the apocalyptic blast-'em-up that is Dead Nation, you'll be able to experience it on the go very soon. Originally shown at E3 2013, the zombie infested shooter is finally making its way to the PlayStation Vita this week in North America and Europe. Both the PlayStation 4 version, which launched not too long ago, and the new handheld edition were developed by Climax Studios.
Interestingly enough, you'll be playing a port of the original PlayStation 3 title and not the next-gen re-release, so there'll be none of those fancy lighting effects. What this does mean, though, is that it'll be cross-buy with the PS3 version.
For those not lucky enough to have nabbed it for free after the legendary PlayStation Network fiasco, the price tag thankfully isn't too bad. This portable version will only set you back $7.99/€7.99, while you can grab the Road of Devastation DLC for a measly $3.99/€3.99. If you already bought the DLC on Sony's previous home console, however, then you'll get it for free. There's also a bundle that includes the full game and DLC for $9.99/€9.99 if you want to save a couple of bucks – these prices are truly to die for.
Are you excited to take down zombies on the go? Can you muster the courage to face the apocalypse one more time, or is this game all but dead to you? Don't let the comment section below become a wasteland and let us know what you think of this portable shoot-'em-up.
[source blog.eu.playstation.com, via blog.us.playstation.com]