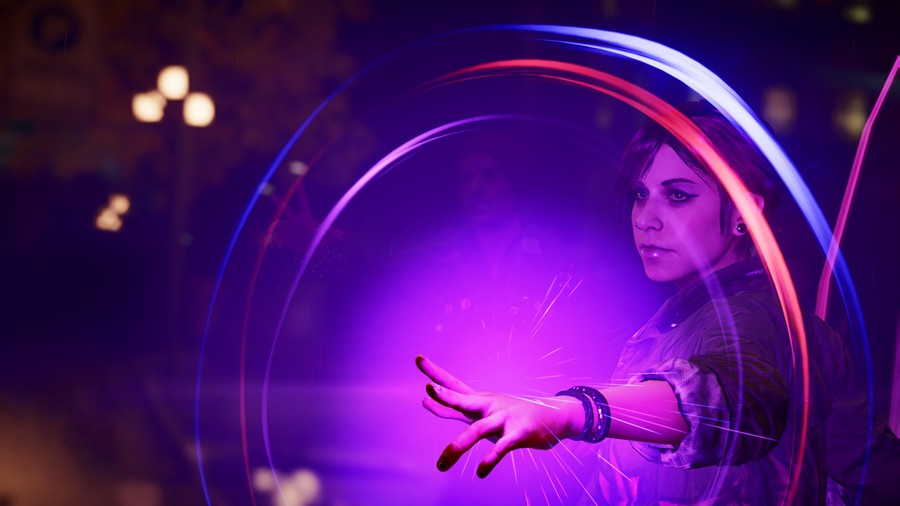 While inFAMOUS: Second Son serves as a semi-reboot for Sucker Punch's superhero series, you may be looking for a crash course on the franchise if you missed the previous instalments. Don't despair, though, as the fine folks at SCEE have casually read your mind and concocted a sale designed to solve your conundrum.
Starting today on the European PlayStation Store, you'll be able to buy all three of the property's PlayStation 3 entries at dramatically discounted prices. If you've never played any of the games, then the inFAMOUS Collection is probably your best bet, as it collates the first two titles and horror-themed spin-off Festival of Blood for £15.38. There's also an additional 10 per cent off for PlayStation Plus members.
Oh, and just to celebrate the sale, the platform holder's released a couple of new screenshots of the abovementioned PlayStation 4 follow-up. Doesn't petty criminal Fetch look, er, fetching when surrounded by that pink neon bubble? Look, she even coloured her hair to match.
inFAMOUS Collection:
Was: €34.99/AU$51.95/£28.49, now €18.89/AU$28.05/£15.38
Additional 10% discount for PS Plus members
inFAMOUS:
Was: €14.99/AU$17.95/£10.99, now €10.04/AU$12.02/£7.36
Additional 10% discount for PS Plus members
inFAMOUS 2:
Was: €19.99/AU$24.95/£15.99, now €12.99/AU$16.21/£10.39
Additional 10% discount for PS Plus members
inFamous Festival of Blood:
Was: €9.99/AU$14.45/£7.99, now €6.99/AU$10.11/£5.59
Additional 10% discount for PS Plus members
[source blog.eu.playstation.com]