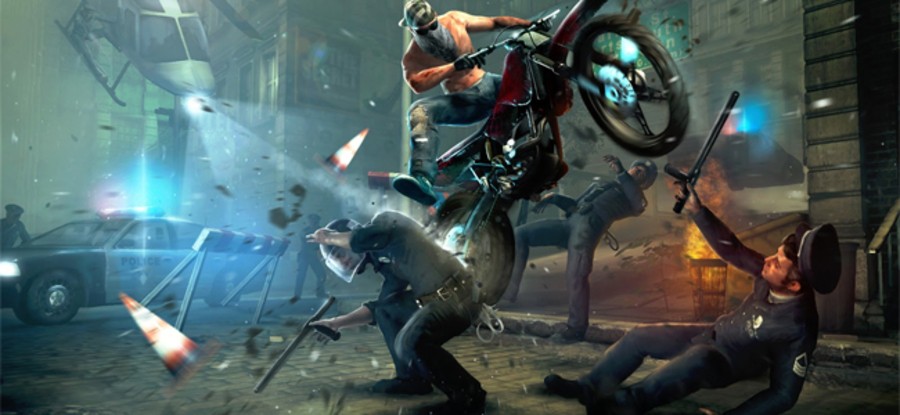 You've got to give Polish developer Tate Interactive credit. The studio's recently released Urban Trial Freestyle may not boast the polished chassis of its physics-focused motorcycle compatriot Trials Evolution, but it's parked itself slap-bang in the centre of a commercial black hole that's been growing in significance on PlayStation since 2009. And the sales numbers reflect as much.
Despite not revving its way onto the PlayStation Store until late last month, the streetwise download has already proved a five-star hit in the digital space. As revealed by Sony's own data, the PlayStation 3 version of the petrol-powered platformer was the third best selling PSN game in Europe for the month of February, while the Vita entry was a success in North America too.
That's despite the title commanding a slew of average review scores and a borderline offensive price point. In simple terms, the data shows that the PlayStation community is calling out for a port of RedLynx's more refined Trials Evolution – and we reckon that it's about time that Ubisoft responded to the demand.
The French publisher snapped up the Finnish studio behind the series in late 2011, citing a desire to strengthen its digital portfolio. However, the developer's existing contract with Microsoft Game Studios was unaffected by the acquisition, meaning that Trials Evolution launched as an Xbox 360 exclusive in April 2012. But surely it's time that the franchise went multiplatform?
Ubisoft has expressed a desire to spread the series' commercial reach in the past. As part of a financial meeting last summer, a company spokesperson teased that there's "great multiplatform potential for RedLynx's brands". The critically acclaimed Helsinki-based outfit is currently working on a PC port of its most-recent two-wheeled adventure, but what of the PS3 and Vita?
Well, it's likely that Microsoft's exclusivity clause forbids the title from releasing on a competing console for at least 12 months. Heavily promoted games such as Limbo and Braid, for example, launched on the PlayStation Network almost exactly a year after their Xbox Live Arcade debuts. It's not unreasonable to picture Trials Evolution following a similar path.
We just hope that the success of Urban Trial Freestyle serves as a reminder of the revenue that Ubisoft's missing out on. Tate Interactive's copycat may not come anywhere close to desaddling the market leader, but it's still a wily release, and it deserves its place atop the PSN sales charts for that reason alone.
---
Are you eager to play Trials Evolution on your PS3 or Vita? Did you buy Urban Trial Freestyle to make up for RedLynx's absence on Sony's systems? Let us know in the comments section and poll below.
Would you like to buy Trials Evolution on the PSN? (10 votes)
Yes, more than I want my own motorcycle
70%
I've already got it on the Xbox 360
0%
No, these games don't appeal to me
30%
Please login to vote in this poll.