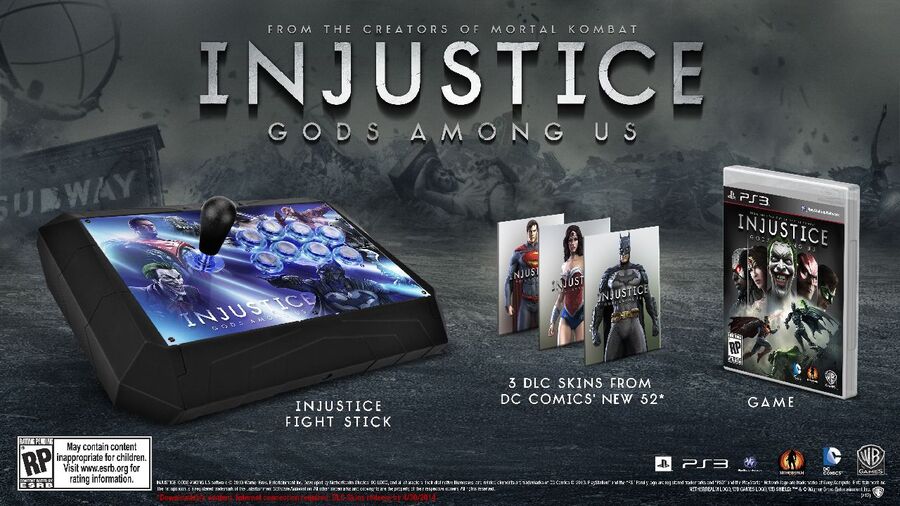 NetherRealm Studios' superhero showdown Injustice: Gods Among Us will pick a fight with the PlayStation 3 on 16th April in North America and 19th April in Europe, publisher Warner Bros has announced. You'll be able to purchase the fighter in a variety of guises, including as part of the beefy Battle Edition, which includes an illuminating fight stick.
The premium bundle – currently only confirmed for North America – will be available from GameStop and EB Games stores, and will also collate three DLC costumes for Batman, Superman, and Wonder Woman based on their 'New 52' revamps. It'll set you back $149.99.
If you don't want the fight stick, you'll be able to splash out on the Collector's Edition instead, which features a statue of Wonder Woman punching Batman in the jaw, as well as the aforementioned DLC, a comic, and a downloadable version of the latest Justice League: Doom movie. Unlike the Battle Edition, the Collector's Edition will be available in Europe, but it will come with a steelbook instead of the film overseas. The package will cost you £74.99/$99.99.
Let us know if you're tempted by either of the premium bundles in the comments section below. Personally, we think that we'll be sticking to the vanilla edition. Who has enough room to store all of this stuff anyway?