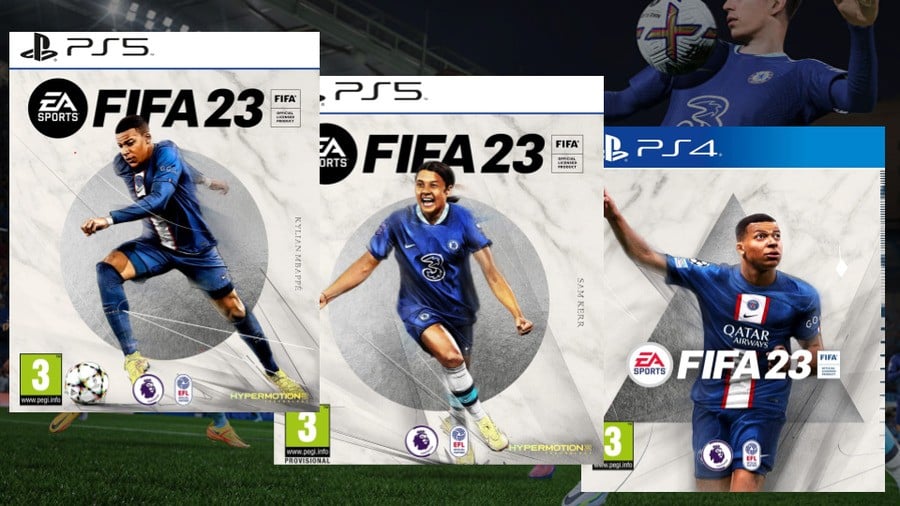 FIFA 23 is just around the corner, launching on PlayStation 5 and PS4 on 30th September 2022. If you're wanting to secure a copy of the game for the best price, you're in the right place, as we'll be tracking all the best FIFA 23 pre-order deals right here.
EA says that this is the "most ambitious" FIFA game it's ever made, with more crossplay possibilities, its new HyperMotion 2 tech, the introduction of women's club football and more elevating the game to new heights. All of that, coupled with the fact that this will be EA's final footie sim with the FIFA branding attached, make it a compelling prospect for sure.
If you're already sold, here's where to get your hands on both the Standard Edition and the Sam Kerr Edition ahead of launch...
Where to Buy FIFA 23 on PS5, PS4 in the USA
In the US, stores such as Best Buy and Amazon have already opened up pre-orders. You can order a copy below for $69.99 on PS5, or $59.99 on PS4:
PS5
PS4
Where to Buy FIFA 23 on PS5, PS4 in the UK
A few stores have now gone live with pre-orders in the UK, with some already listing the title well below RRP. Note that the Sam Kerr Edition is exclusive to Amazon, so this is the only place you'll be able to get a copy:
PS5
PS4
Are There Any FIFA 23 Special Editions?
FIFA 23 will sport two different covers – one featuring tried and trusted FIFA boxart star Kylian Mbappe, and one featuring Chelsea star Sam Kerr. The Sam Kerr Edition is exclusive to Amazon in the UK.
There's also a digital-only Ultimate Edition which comes with some additional in-game goodies and grants you three days of early access. If you want to go down this route, you can pick up some discounted PlayStation Wallet Top-Up funds to make the purchase a little more affordable.
Top Deals on Older FIFA Games
If you don't mind playing an older version of the game, you can save some serious cash by picking up FIFA titles from years gone by. Here are some of the best deals we could find at the time of writing:
---
Will you be buying a copy of FIFA 23? Tell us in the comments section below, and feel free to check out our other pre-order guides for God of War Ragnarok and The Last of Us Part 1.