How do you complete SBCs in FIFA 22? SBCs, also known as Squad Building Challenges, are a core part of the FUT 22 or FIFA Ultimate Team experience. In essence, they test your team building abilities by setting a variety of parameters which you'll need to fulfil in order to earn rewards. As part of our FIFA 22 guide, then we're going to explain how to complete SBCs. If you need Coins to complete your SBCs, then you can refer to our How to Make Coins in FUT page. We'll also explain When to Buy and Sell Players in FUT and share Division Rivals - All Rewards, Release Dates, and Times, FUT Champions - All Rewards, Release Dates, and Times, and Squad Battles - All Rewards, Release Dates, and Times through the links.
FIFA 22: How to Complete SBCs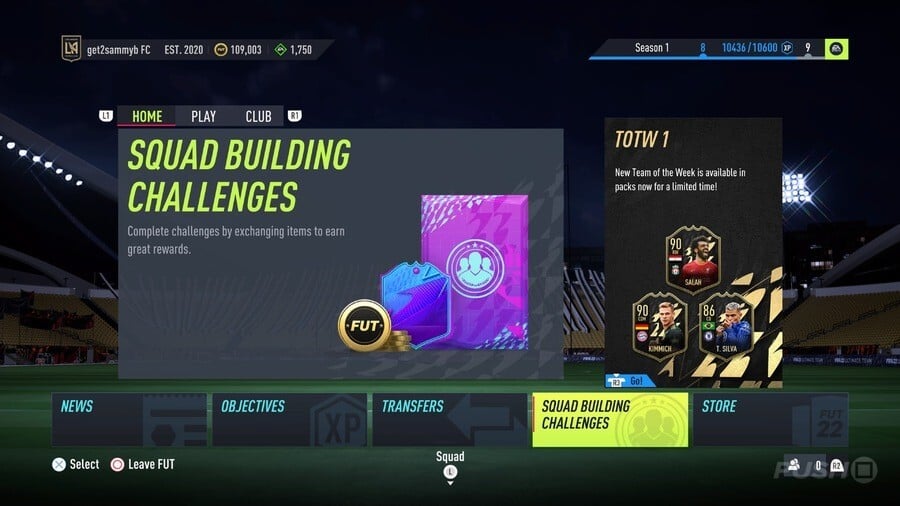 You'll collect a lot of Players in FIFA 22, and it's unlikely you'll use many of them for Division Rivals or FUT Champions. Instead, you'll either trade them on the Transfer Market or use them to complete SBCs, also known as Squad Building Challenges. Cards used primarily for SBCs are commonly referred to as "fodder" by the franchise's community, because they exist largely to fulfil the criteria of the team building challenges, as opposed to as starters in the Best Formations and Custom Tactics for FUT.
There are many SBCs available in FUT 22, and you'll find them in the Home section of the FIFA Ultimate Team main menu. If you're new to the game, then you should start by completing the SBCs listed under the Foundations tab. Not only are these extremely easy to complete, but you'll also get a number of free Packs (See Also: All FUT Packs Explained) for your troubles, which will help you to complete some of the other SBCs available in the game.
Below we've included some suggestions which will help show you how to complete SBCs in the game. Remember that if you're struggling to complete an SBC or aren't sure how much an SBC will cost to complete, you can often find that information on third-party websites. FIFA Solutions on Instagram is a good one that's always up-to-date.
Dispose of Untradeable Players
Some of the Players you'll collect as rewards for completing Seasonal Objectives and Milestones will be Untradeable, which means they can't be traded on the Transfer Market or Quick Sold. They can, however, be used to complete SBCs. Always try to dispose of these cards when you can, especially if you're not planning to use them in your team.
Build Blocks of Players for Chemistry
Often you'll need to fulfil Chemistry requirements in order to complete SBCs. You gain Chemistry by linking players of the same Nationality, League, and Team together. The easiest way to build Chemistry is to block players together. For example, you can easily build Green or Yellow links between a GK and two CBs. Forming strong foundations will allow you to more easily obtain the Chemistry requirements you need. It also helps to put players in the right position, but don't waste Position Modifiers unless you really have to.
Make the Most of Upgrade SBCs
One easy method of How to Make Coins in FUT relies on you purchasing Bronze Packs and using them to complete repeatable SBCs called Upgrades. First complete the Bronze Upgrades to get Two Silver Players, then invest these into Silver Upgrades to get three Common Gold Players. You can then use these Common Gold Players as fodder to help complete promotional SBCs for Rare Players or Promo Packs. While it is, admittedly, a long-winded and tedious process, if you're willing to put in the work you will get a lot of high-quality Players for very little cost.
Use the Web App and Companion App
Chances are, when you've got FIFA 22 on your television, you're going to want to be playing matches of Division Rivals or FUT Champions. But by logging into your EA Sports account on your PC or smartphone, you can take advantage of the Companion App to complete SBCs while you're at work, on the bus, or even on the toilet. You can access the Web App through the link, and you'll find the Companion App on your smartphone's app store.
Keep Useful Players in Your Club
If you pack a Team of the Week (See Also: All New TOTW Players in FUT) or other promotional player, it can be tempting to list them on the Transfer Market immediately. However, sometimes it can be valuable to keep these Players in your Club in anticipation of SBCs. Not only will their value increase as others seek out promotional cards in order to complete SBCs, but you may find that you're able to use them at a later date yourself in order to complete high value SBCs without needing to spend Coins.
---
How do you complete SBCs in FIFA 22? Turn in a team-building solution in the comments section below, and check out our FIFA 22 guide through the link.