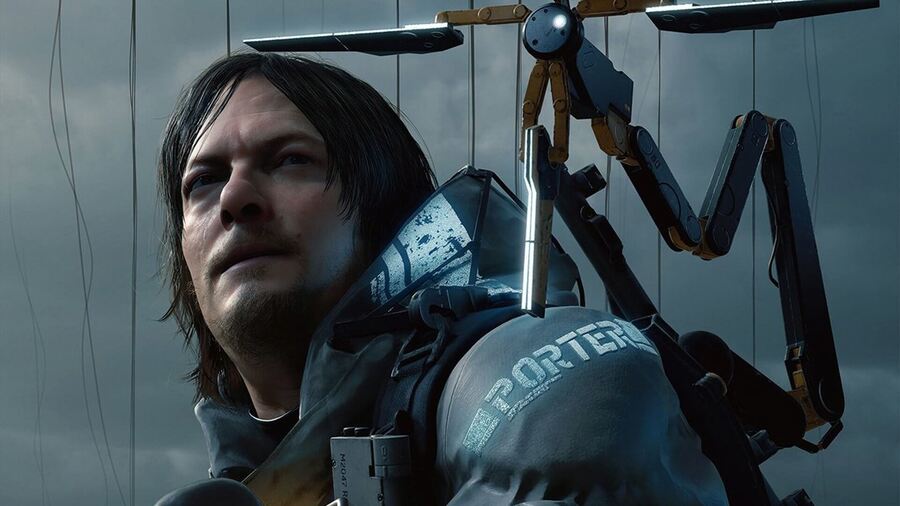 Death Stranding is one of PlayStation's biggest games of 2019. In an attempt to bring every bit of known information under one roof, we've created this FAQ to give you every fact and figure we know of so far. If you're curious about Hideo Kojima's latest, this guide will give you a top level explanation. For lots more information, check out our big Death Stranding guide.
What is Death Stranding?
The Death Stranding is a cataclysmic event that has left the world in tatters. As protagonist Sam Bridges, your main task is to reunite civilisation by restoring the broken nation of America. Your main task is to deliver goods to various isolated locations across the country, and get everyone connected to the Chiral Network to reestablish communication.
You'll need to avoid bad guys that are after your cargo as well as the mysterious BTs — those floating, black, ethereal things. The world in this game is a nightmarish one, but you must traverse the ruined landscape in order to bring the population back together.
The game also expands on its themes of connection by introducing asynchronous multiplayer features, meaning you'll sometimes see things in your game world left behind by other players. You'll all be sort of working together to complete Sam's arduous mission.
Who Develops Death Stranding?
Death Stranding is developed by Kojima Productions. It is the studio's first title under that name, and is published by Sony Interactive Entertainment on PS4.
Is Death Stranding a PS4 Exclusive?
Death Stranding is a console exclusive on PS4. Kojima Productions has announced the game will be coming to PC in 2020, published by 505 Games.
Will Death Stranding Release on PS5?
Yes. In fact, Death Stranding Director's Cut — the PS5 version of the game — is out right now, with an upgrade path from PS4 to PS5, save data transfer, and lots of new features.
What Is Death Stranding's Release Date?
Death Stranding will release on PS4 on 8th November 2019.
Does Death Stranding Have a Collector's Edition?
Yes, Death Stranding will release with a series of different versions at various price points.
Special Edition
The Special Edition comes with a steelbook case, a pair of "Ludens Mask" sunglasses, the soundtrack, and a behind the scenes video. Pre-ordering gets you the same rewards as the standard version.
Digital Deluxe Edition
The Digital Deluxe Edition is next up. Pre-order this version to get all the aforementioned digital rewards, plus special gold versions of certain in-game items. Gold seems important in this game.
Collector's Edition
And finally, the Collector's Edition. This box of wonders comes with a life-size BB Pod — the capsule with a baby inside. That won't be a freaky addition to your living room at all. You'll also get a BRIDGES cargo case and a Ludens keychain, as well as all the digital goodies.
Is There a Limited Edition Death Stranding PS4 Pro Console?
Why yes, there is a special Death Stranding PS4 Pro. Coloured white, black, and gold, the snazzy console bears the iconic handprints, and it looks great. The PS4 controller that comes with it is modelled after the Bridge Baby container Sam wears in the game.
Who Do You Play as in Death Stranding?
You will play as a man named Sam Porter Bridges, who is modelled after and voiced by Norman Reedus.
Who Else Appears in Death Stranding?
Alongside Norman Reedus, the confirmed cast is as follows:
Mads Mikkelsen plays Cliff
Lea Seydoux plays Fragile
Lindsay Wagner plays Amelie
Troy Baker plays Higgs
Tommie Earl Jenkins plays Die-Hardman
Margaret Qualley plays Mama
Guillermo Del Toro plays Deadman (Special appearance without voiceover or motion capture)
Nicolas Winding Refn plays Heartman (Special appearance without voiceover or motion capture)
What are the Enemies in Death Stranding?
Death Stranding's enemies comes in different shapes, sizes, and dimensions. Traditional bandits named MULEs hunt you down for your cargo, while Beached Things (BTs) hunt you down with their invisibility. There are bigger, nastier versions of these creatures you may have to fight, too.
There is no traditional Game Over screen either, as an upside-down realm gives you the chance to fight your way back to the living.
Is Death Stranding Open World?
Yes, Death Stranding is an open world game.
Will Death Stranding Have Multiplayer?
It has asynchronous multiplayer features. What this means is that, when you're in an area covered by the Chiral Network, you'll be able to see and use equipment left behind by other players. You can leave likes for stuff you find useful, and help others build roads, bridges, and other handy structures and tools.
---
Are you excited to play Death Stranding on PS4? Reconnect in the comments below.