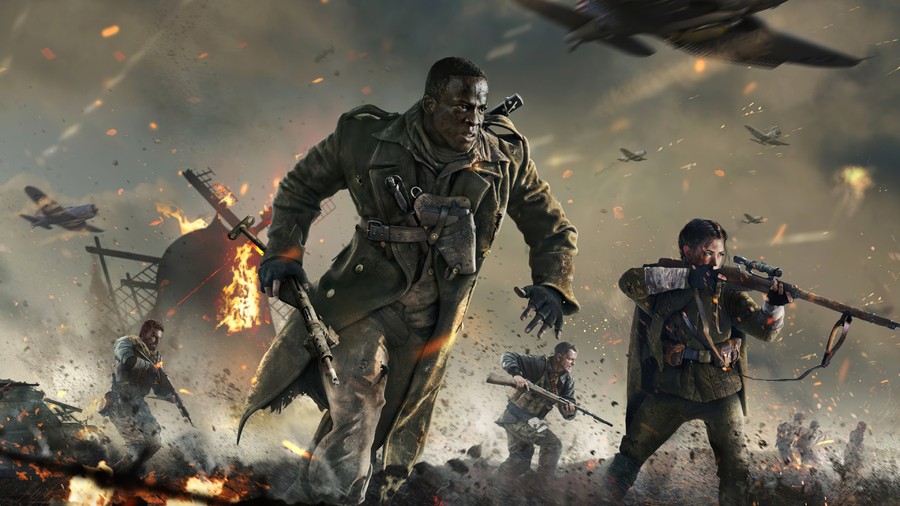 Call of Duty: Vanguard is out for PlayStation 5 and PS4 today, taking the popular FPS franchise back to World War II. It feels like this latest entry hasn't been quite as anticipated as much as usual, but what's important is the quality of the final product. Some outlets were treated to early review copies and have been allowed to post their thoughts, meaning we can gauge if Sledgehammer Games' latest is any good or not.
As for our own PS5 verdict, we've only just received review code. Expect our Call of Duty: Vanguard PS5 review to go live at some point next week, penned by yours truly. In the meantime, here's a selection of other reviews.
Call of Duty: Vanguard's campaign misses the mark, but multiplayer and Zombies do the heavy lifting to get the title to a good place. If you're most invested in the single-player experience, you can pass on this year's entry, but if you're into the other modes, Call of Duty remains an excellent choice for some shooting, looting, and zombie executing.
All in all, Call of Duty: Vanguard is a solid yet unremarkable entry into the long-running franchise. On a technical level, it's one of the most impressive games out there right now. On a gameplay level, it's nothing you haven't seen before. Still, whether you're in it for the single-player campaign, multiplayer suite, Zombies mode, or Warzone, Call of Duty: Vanguard has a lot to offer. It's a step in the right direction for Sledgehammer Games, but it feels like it'll take a second entry for the studio to really knock it out of the park.
IGN - 7/10 (Single Player Review)
With a strong cast of characters used to varying effect throughout to tell a tale that puts just about enough of a spin on the stories it's paying homage to, Call of Duty: Vanguard's single-player campaign is an impressively cinematic depiction of World War II. That said, aside from a few standout moments sprinkled over its fleeting five hours, for the most part it plays it a little too safe in regards to mission variety to feel like a standout in the series. It may look and sound spectacular, but it could've used more stylish sections like Petrova's to distinguish its gameplay from the many battles we've fought before.
The thing about Call of Duty games is that, with each yearly iteration, you pretty much know what you're getting--and that's largely the case here. It's both a blessing and a curse for Vanguard, however. Elements of Vanguard feel like good additions to the franchise, but its ideas also don't always mix well with the series' framework. That framework is still strong, and the solid gunplay, exciting multiplayer, and inventive moments of the campaign are worth seeking out. But forcing those two parts together exposes the seams in Call of Duty: Vanguard at times, weakening both parts of the game rather than pushing either one to the forefront.
Vanguard, I suspect, will do well - Call of Duty does well! Its in-game store will sell silly outfits for its World War 2 operators. Pricey weapon skins will keep the money rolling in. As the Call of Duty menu screen swells, adding a new front to fight on even as we head into what's sure to be a difficult winter, Vanguard will do its bit for the war effort. But unlike the source material, Vanguard won't live long in the memory.
---
Are these review scores enough to convince you to pick up the game? Let us know in the comments below.