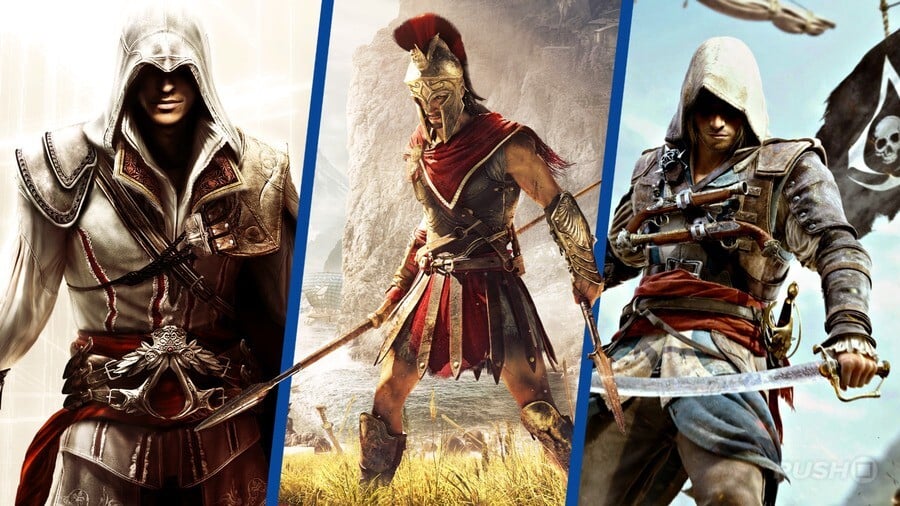 What's the best Assassin's Creed game? This is a question that we refuse to answer alone, and so we're going to enlist your help to create an official Push Square list, ranking every mainline Assassin's Creed title on PlayStation platforms. All you need to do is head into the ratings system below and give a review score to each entry. We'll then use your ratings to determine the best, alongside the rest.
But first, a bit of background on Assassin's Creed itself...
Ubisoft's Assassin's Creed series is one of the most successful franchises in modern gaming. It started life on the PS3, with the original Assassin's Creed. At the time, it was a different kind of stealth title. It pushed unique "social stealth", allowing main character Altair to blend in with NPCs and the environment in order to get closer to his assassination targets. These mechanics would become gameplay staples of the series going forward.
The premise held so much promise, but the first game didn't quite capitalise on it. Indeed, it was the much more positively received Assassin's Creed II that put the property on the mainstream map. Set in renaissance Italy, there was an undeniable swagger and style to the sequel, which is now considered a classic. The formula was refined even further with Assassin's Creed: Brotherhood, but by the time Assassin's Creed Revelations rolled around, the once lauded gameplay structure was starting to wear thin.
A change of setting in Assassin's Creed III certainly helped, but back in 2012, the game was criticised for a slow story and uninteresting characters. It's still seen as something of a black sheep even today, but the same can't be said of Assassin's Creed IV: Black Flag. Rightfully remembered as a high point for the franchise, Black Flag shook up the formula significantly on PS3 and PS4, with a heavy emphasis on sea-faring adventure and naval combat.
Unfortunately, Ubisoft couldn't make the most of this newfound success. Its next game, Assassin's Creed Unity, was panned at launch due to dreadful technical issues, and its reputation never really recovered. The publisher then decided to play it very safe with the solid Assassin's Creed Syndicate, but it still struggled to reignite the passion for this once beloved series.
Something drastic had to be done, and so Assassin's Creed's entire gameplay structure was rebooted in 2017 with Assassin's Creed Origins. Origins went full open world RPG, introducing a gigantic, gorgeous map, character levels, loot, and all kinds of quests. Both critically and commercially, The game was a smash hit, and pretty much brought the series back from the brink.
Origins was also the beginning of what we now know as the Assassin's Creed open world trilogy. Its successor, Assassin's Creed Odyssey, became the most profitable title in the entire franchise, and it delved even deeper into the RPG systems that Origins had introduced. Assassin's Creed Valhalla was next, and despite a somewhat rocky release, it's largely followed in Odyssey's footsteps, becoming an immense success for Ubisoft.
However, the open world games have divided fan opinion. Although Assassin's Creed is now more popular than ever, many series veterans would argue that the latest instalments barely resemble the adventures that started it all — that they're historical open world RPGs, not Assassin's Creed games.
But which Assassin's Creed games do you like best? Rate each mainline instalment using the ratings system below, and we'll soon publish a full list that ranks the series from worst to best.
Now, get rating!
Ratings close on the 23rd October 2021, with our results article set to be published on the same day — so get your votes in while you can!
---
What's your favourite Assassin's Creed game? Sheathe your hidden blade in the comments section below, and be sure to keep an eye out for our rankings article in the near future.