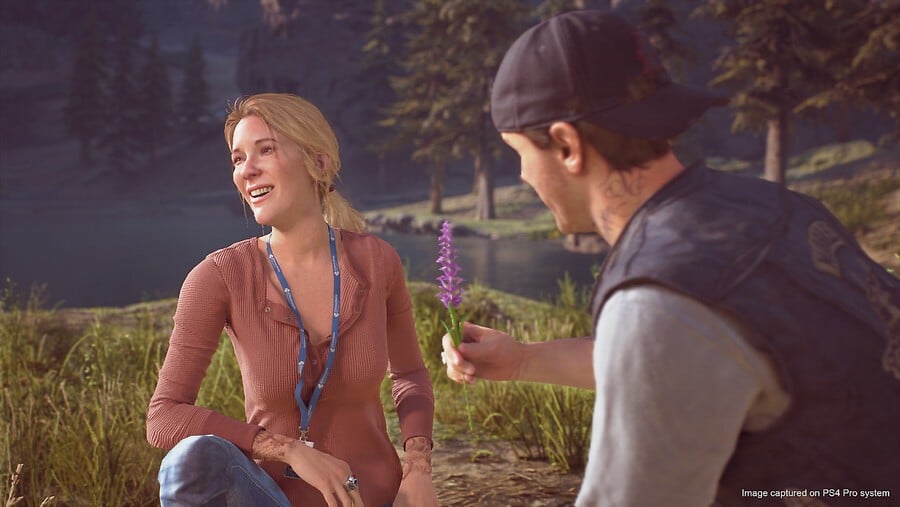 Love is in the air, and with Valentine's Day around the corner, Sony's taking the opportunity to showcase some new… Days Gone screenshots? You may recall the platform holder sending wedding invitations out to press, welcoming them to the upcoming nuptials of Deacon and Sarah St. John. We speculated that the organisation may have a new story trailer lined up, but perhaps it has an even bigger campaign in store.
A new page on PlayStation.com includes a submission form for attendees to RSVP with; there are also a bunch of new screenshots showing the couple doing, y'know, coupley things. There's even a paragraph of text explaining the pair's story so far:
Deacon St. John and Sarah Whitaker were an unlikely couple: he was from rural Oregon, a member of an outlaw motorcycle club; she was from Seattle, a botanist with a degree in biochemistry. But from the moment they met, on the back roads of Farewell Oregon, they were inseparable. Now they're ready to ride off into the sunset and face the next chapter of life together as man and wife.
Of course we have a sneaking suspicion that things aren't going to be as straightforward as that – especially with an impending apocalypse around the corner. We're fascinated to see what Sony's got in store next week – it's doing a good job with its Days Gone marketing thus far, and let's hope that continues through to release in April.
[via playstation.com]