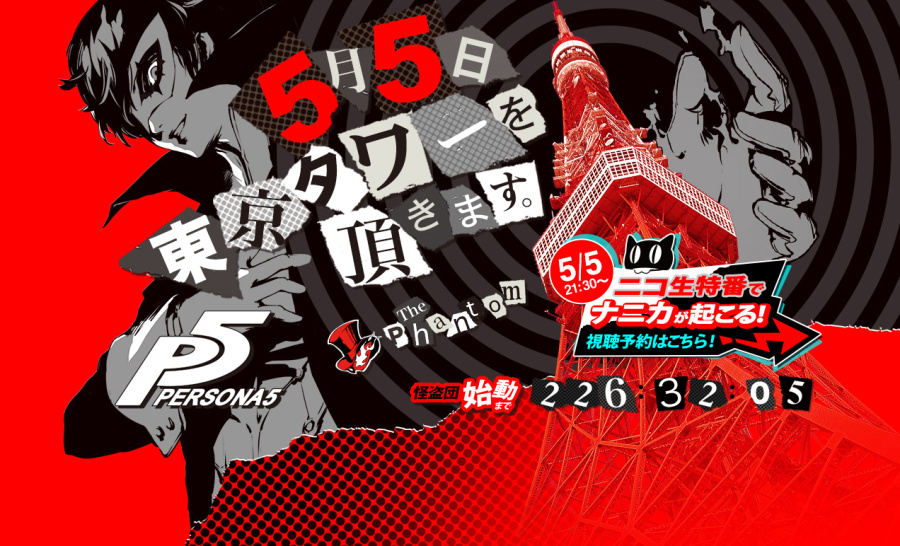 Fan of the series are still reaching out for the truth when it comes to Persona 5, as the highly anticipated role-playing game still doesn't have a confirmed release date. Indeed, just recently, NIS America stated that it'll no longer be working with Atlus to bring its software to North America and Europe, and just like that, our hope that we'll be getting our hands on Persona 5 this year has dimmed.
In any case, as reported last week, there's going to be some sort of Persona 5 announcement on the 5th May. Adding fuel to the fire, Atlus has revealed that there'll be a live Japanese broadcast on the day, entitled "Take Tokyo Tower". The stream will begin at 21:30PM Japan time, which means that the news will hit North America in the morning, around 05:30AM PST/ 08:30AM EST, and Europe in the afternoon, around 13:30PM BST.
We have to assume that a Japanese release date will be confirmed, but what are you hoping for? Thoroughly disappoint yourself by wishing for a worldwide launch in the comments section below.
[via gematsu.com]