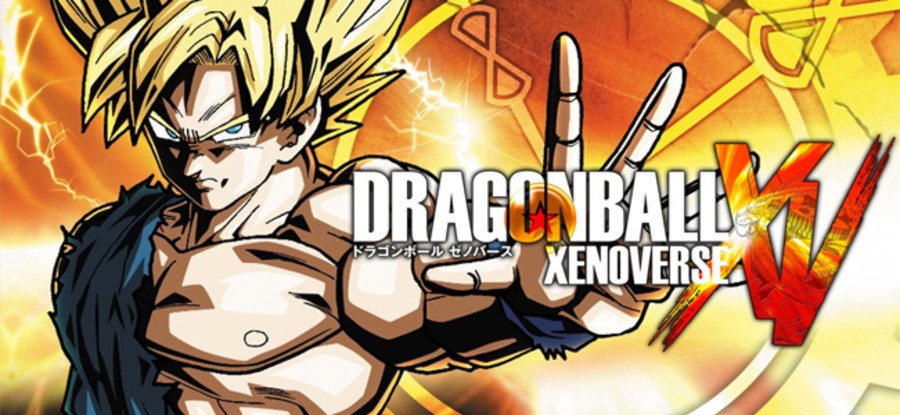 Dragon Ball Xenoverse is now approaching its 27th February release date at supersonic speeds, and it's safe to say that we haven't seen a Dragon Ball game drum up this much hype in quite some time. The upcoming brawler takes the fight online with an MMO-like structure where you can team up with other fans and tackle missions and quests that see you repair Dragon Ball's historical timeline, all while powering up your own custom hero. We caught up with the title's producer, Masayuki Hirano, to discuss development, the Dragon Ball universe, and the franchise's future.
Push Square: There have been a lot of Dragon Ball fighting games over the years. What have you done to make Dragon Ball Xenoverse stand out?
Masayuki Hirano: There are a lot of points which make Dragon Ball Xenoverse stand out among the other Dragon Ball fighting games. We had a concept to provide a totally new experience to users with this title. The biggest point is, in this title, you can dive into the Dragon Ball world, fight with Goku, grow your character, and have a major impact on Dragon Ball history.
Dragon Ball history and your favourite stories will be distorted by someone, and you will fight against those enemies. Please enjoy the new stories provided by Dragon Ball Xenoverse.
In Dragon Ball Xenoverse, the player can make their own custom hero or heroine. What was the original thought behind allowing people to make their own character?
I'd like users to have a new Dragon Ball experience which they've never had before.
This new experience can only be done in this game, which I'm sure you will be absorbed in, and enjoy.
Dragon Ball is a franchise that's still incredibly popular around the world despite its age. Can you tell us what it feels like to have Xenoverse be part of such a grand legacy?
It's really a privilege for me to release a Dragon Ball franchised title, and I feel a great responsibility.
As you mentioned, there are a lot of fans who like Dragon Ball, and in this title, we've attempted a lot of new challenges, such as new stories, character creation, and online functionality. We approached those new challenges trying not to betray users' feelings, and I'm sure that we've succeeded in providing a new and enjoyable experience.
Fans seem to love alternate reality scenarios, especially those that are unexpected. How did you come up with some of Xenoverse's alternate timelines, and did you enjoy creating them?
I'm a huge fan of Dragon Ball, and as a fan, I'd like to see new Dragon Ball stories. On the other hand, I'd like to feel excited by diving into Dragon Ball's world.
I'm sure we've succeeded in providing a new and enjoyable experience



To make the above dreams come true, I popped up with the idea of implementing new scenarios into this game, and it worked. And although thinking about new scenarios and world views was an enjoyable and playful process for me, it took a really long time to complete them. I thought that it was mandatory to take the time to create new stories for the world to view – stories everybody would be satisfied with.
A lot of surprises and excitement will await you, I'm sure you will feel like "Oh, this thing is not going to happen at this time" or "What's happening!?"
Accessibility seems to be a key selling point for fighting games these days. When developing Dragon Ball Xenoverse, what did you do to make the title accessible for new players?
We've developed this game in order to satisfy both types of users: beginners (new players) and experts of fighting games.
For new players, we've implemented two things into the game: growing your own character's level, and customisation parts. Those two aspects will make it easier for new players to fight against strong enemies. Users will learn how to operate their characters, and simultaneously grow their character's abilities.
You can't just mash buttons, which makes battles in the game more strategic



By customising characters, you can create your own characters which have your favourite fighting styles. For example, you can create characters who are good at using ki blasts at a long distance, or melee attacks at a close distance. There are a lot of customisations which users can do.
And, of course, there are a lot of fighting mechanics for experts. Expert users have to think about the enemy's next actions, and creating their own original combos to beat enemies. There are various combo patterns in the game, which can't be made by just mashing buttons, which makes battles in the game more strategic.
With developers now moving on to next-generation consoles, can you tell us if there are any differences between Dragon Ball Xenoverse on the PS3 and Dragon Ball Xenoverse on the PS4? What did the new hardware allow you to do that you couldn't do before?
I'd like to provide excitement to as many users as possible, so the basic user experience will be the same among all platforms.
But, when starting the development of Dragon Ball Xenoverse, we had a concept of how to express Dragon Ball animation on new-gen consoles, so there are visual quality differences between new-gen versions and old-gen versions, and there are some functions which are only supported by new-gen consoles.
Dragon Ball has always been popular in its native Japan, but it's amassed a huge fan base overseas, too. How important do you think it is for Japanese games like Dragon Ball Xenoverse to appeal to both Japanese and Western gamers?
It's really important.
In order to approach both Japanese and Western gamers, we have to surpass the expectations from Dragon Ball fans. We must not only implement what fans want to experience into the game, but we must also exceed fans' expectations, which is an important factor in appealing to both Japanese and Western gamers.
Can you tell us anything about the future of Dragon Ball games? Fighting games are an obvious choice for the franchise, but can you see it ever moving towards adventure or even role-playing games?
Yes, you can expect a lot from future Dragon Ball games.
As I can see from users' opinions who purchased Dragon Ball Xenoverse in Japan, Dragon Ball Xenoverse has been accepted as different genres for each user. Some think its genre is action, others think its genre is adventure or something, so the genre is not an important factor to attract Dragon Ball fans – an important thing is creating new challenges for users. Dragon Ball Xenoverse is the result which was generated by new challenges that we took on, so please stay tuned for its release.
---
Are you looking forward to Xenoverse's release later this month? Pop your thoughts into a capsule and send it flying into the comments section below.