Description will appear here shortly...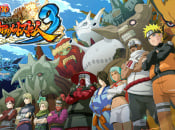 Prepare your hair gel
Proving that there's still room for one more heavy-hitter in the crowded month of March, publisher Namco Bandai has announced that the wordy Naruto Shippuden: Ultimate Ninja Storm 3 will pick a fight with the PlayStation 3 on 5th March in North America and 8th March in Europe. We're not convinced that the CyberConnect 2...
Hold on there, you need to login to post a comment...