Description will appear here shortly...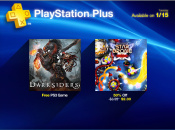 Apocalyptic addition
THQ may be on the cusp of commercial collapse, but that's not stopping the publisher from giving away complimentary copies of the original Darksiders to North American PlayStation Plus subscribers. Assuming you're a member, you'll be able to grab the title for free from later today. Other goodies include a 50 per cent...
Hold on there, you need to login to post a comment...