Fowl flingin' fun in a galaxy far, far away.
Review
PAL Version
Posted by Katy Ellis
Use the birds, Luke
A long time ago (well, 2009), in a galaxy far, far away (Finland), an unassuming development studio named Rovio Entertainment gave birth to a mobile gaming franchise which would ultimately take over the world. Three years later and still going strong,...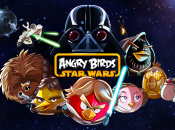 Luke Flywalker
Angry Birds: Star Wars, Rovio and LucasArts' license to print money, is set to step away from the Pork Side of mobiles and tablets, and fly onto the PlayStation 3 and Vita this fall. The title – which popped up on Amazon overnight – will catapult its way onto a console near you on 29th October in North America and 1st November...
Hold on there, you need to login to post a comment...