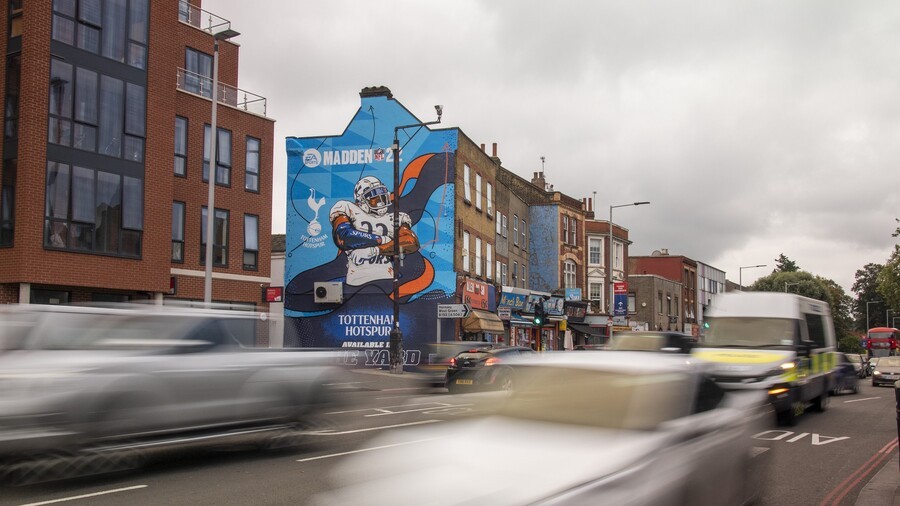 This weekend the Atlanta Falcons and New York Jets will descend on London for a seasonal match-up that will put one of the two teams on at least two wins – although, given the state of these franchises, we wouldn't be surprised if they both found a way to lose. The game – the first of a two-part series – will be played at the Tottenham Hotspur Stadium, home to Harry Kane when he's not pining for Pep Guardiola's Manchester City.
To mark the occasion, EA Sports has rolled out a pretty big update for Madden NFL 22, which adds in the London-based stadium – you can already select Wembley from previous releases – and a bunch of kits inspired by the soccer team. The publisher's also running a European exclusive 30 per cent discount on the game, and has erected a mural outside of the stadium to advertise it.
Here's how the Tottenham Hotspur Stadium looks, with quarterback geriatric Matt Ryan strutting out for his warm ups:
You'll also get some helmets for your avatar with the Spurs logo on them, and if you play the street football-inspired side-mode The Yard, you can unlock some additional kits:
How many of you are heading to the game this weekend? This author will be there, although rocking up in Giants attire may be a touch risky giving the teams on the field. Perhaps an Arsenal jersey will suffice?