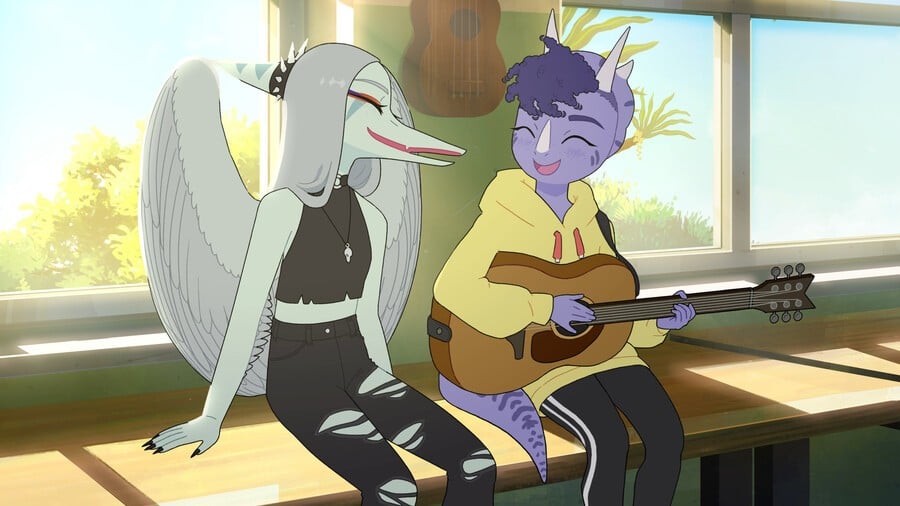 The narrative adventure game featuring friendly dinosaurs attending high school known as Goodbye Volcano High has been delayed into 2022, KO_OP announced today. The GNOG developer wants to avoid crunching in order to hit a launch date this year, and the other reason for the delay is a narrative reboot. "Those two factors have delayed our release timeline. So we are making what we're sure is by now an expected announcement: Goodbye Volcano High will be a 2022 title, not a 2021 one," a press release reads. It's planned for release on both PlayStation 5 and PS4.
The Goodbye Volcano High plot was actually rebooted over a year ago, back in June 2020. "What began as a daunting and intimidating change in the middle of production has become a chance to tell a story that we're proud as hell about, alongside a group of people that we trust implicitly with the material."
Speaking to those interested in the game, the team said: "We love the community that we've fostered through developing Goodbye Volcano High, and we hope it isn't too much of a bummer to have to wait a little longer for the dino drama. Thank you to those who have been supporting us since day one and to those who have joined us along the way. We really appreciate you and your support. We love making this game and we're lucky we have a chance to make it!"
To learn more about Goodbye Volcano High, check out our interview with KO_OP from last year. Are you interested in playing next year instead? Let us know in the comments below.