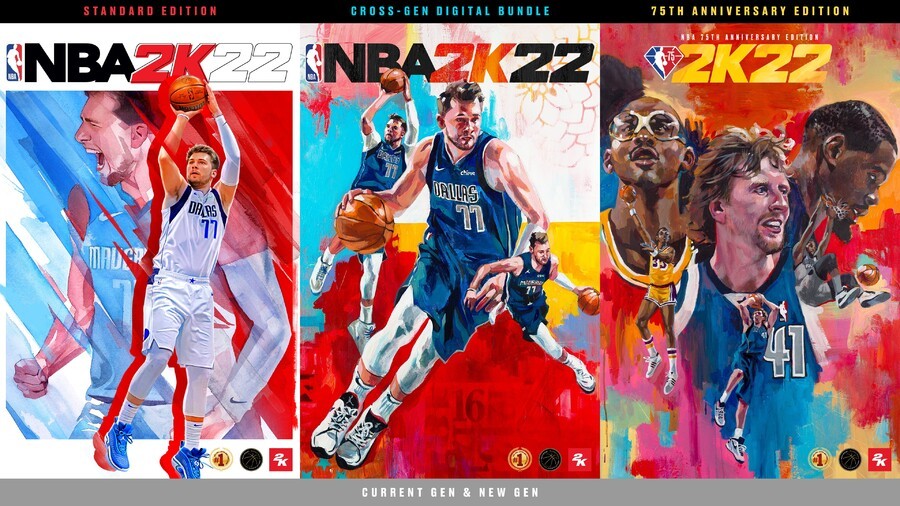 Well, it was inevitable really, but Dallas Mavericks' versatile guard Luka Dončić is the star of NBA 2K22, fronting the Standard Edition and its Cross-Gen Digital Bundle. As that sentence already implies, there are no free PS4 to PS5 upgrades here – just like FIFA 22 and Madden NFL 22 – so you'll need to purchase a pricier bundle if you want to play the basketball sim across both consoles. More on that later.
A third version, the NBA 75th Anniversary Edition, will focus on a trio of the league's most impactful bigs: Kareem Abdul-Jabbar, Dirk Nowitzki, and Kevin Durant. All three versions are due out on 10th September, and are available to pre-order from today. Sony once again has marketing rights, as PS Plus subscribers will receive three free monthly MyTeam packs throughout the course of the season.
"Making the global cover of NBA 2K22 is special for me," Slovenian star Dončić said. "I'm proud to represent my country in a special cover that honours the Colors of the Slovenian flag. Basketball has given me so much, and I'm excited to give back and work together with 2K Foundations this year to help the lives of young kids around the globe."
So, what about those three distinct editions, then. Well, here's the lowdown, direct from the press release:
The Standard Edition will be available for £59.99/$59.99 on previous-gen platforms (PS4) and £64.99/$69.99 on new-gen consoles (PS5).
The Cross-Gen Digital Bundle will be available for £74.99/$79.99 and grant players access to the Standard Edition across previous-gen and new-gen.
NBA 2K22 NBA 75th Anniversary Edition will be available for £84.99/$99.99 for PS4 and PS5. Dual-gen access is included for both the Cross-Gen Digital Bundle and NBA 75th Anniversary Edition for the PS4/PS5 platforms and provides a version of the game on each console generation within the same console family.
So, what do you get? Well, pre-orders for the Standard Edition include 5,000 VC, 5,000 MyTeam points, 10 MyTeam Promo Packs (delivered weekly), boosts in MyCareer, a Luka Dončić MyPlayer jersey, and a 95-rated Luka Dončić MyTeam Free Agent card. Plump up for the Cross-Gen Digital Bundle and you'll also get 10,000 MyTeam points, 10 MyTeam Tokens, Sapphire cover star MyTeam cards, a Diamond MyTeam shoe pack, and some bonus MyPlayer items – including a custom skateboard.
Then there's the most expensive NBA 75th Anniversary Edition, which includes 100,000 VC and 10,000 MyTeam points in addition to the items from the Cross-Gen Digital Bundle. You can find out more information on the game's official website, with future gameplay and soundtrack updates due in the coming weeks.
[source nba.2k.com]