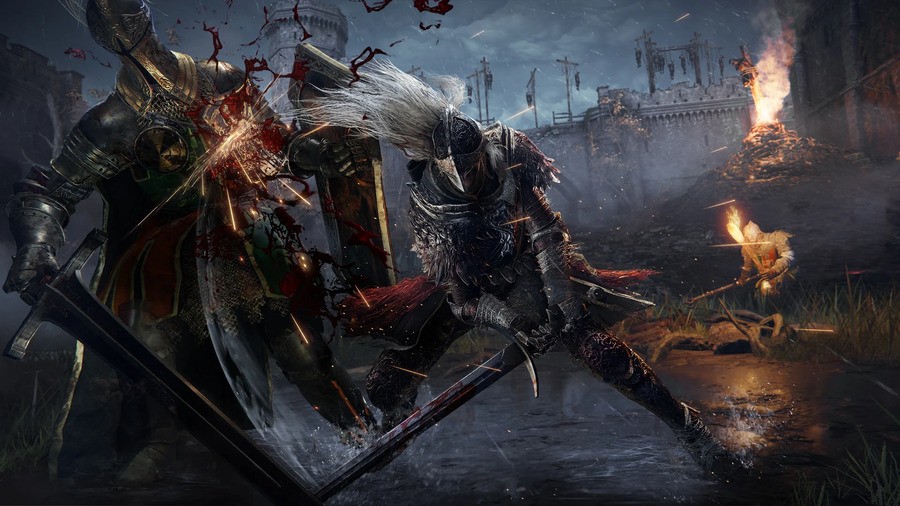 Who else is still on a high following that Elden Ring trailer last night? We know we are, so it's time to rummage through every single detail we can find about the FromSoftware title so far. The official website is the best place for that, serving up a brief overview of the game's story, open world, and gameplay. Buckle up because we've got a lot to get through.
The plots in FromSoftware experiences are almost always far too vague to follow unless you've got a YouTube breakdown by your side, so we'll simply quote what the developer has to say on the story and leave it at that:
Rise, Tarnished, and be guided by grace to brandish the power of the Elden Ring and become an Elden Lord in the Lands Between. In the Lands Between ruled by Queen Marika the Eternal, the Elden Ring, the source of the Erdtree, has been shattered.
Marika's offspring, demigods all, claimed the shards of the Elden Ring known as the Great Runes, and the mad taint of their newfound strength triggered a war: The Shattering. A war that meant abandonment by the Greater Will. And now the guidance of grace will be brought to the Tarnished who were spurned by the grace of gold and exiled from the Lands Between. Ye dead who yet live, your grace long lost, follow the path to the Lands Between beyond the foggy sea to stand before the Elden Ring.
As for the open world, it has, of course, been crafted by Hidetaka Miyazaki and A Song of Ice and Fire author George R.R. Martin. Throughout your travels, you'll encounter friends and foes who may help or hinder your adventure as well as the odd fearsome enemy or two (read: there'll be a lot more than that). The description then goes on to mention "vast fantastical landscapes and shadowy, complex dungeons that are connected seamlessly". You can explore them all on foot or by riding your horse.
And yes, there will be a swamp area. "Traverse the breathtaking world on foot or on horseback, alone or online with other players, and fully immerse yourself in the grassy plains, suffocating swamps, spiraling mountains, foreboding castles and other sites of grandeur on a scale never seen before in a FromSoftware title."
And then there's combat, which seemingly sits between a Dark Souls title and Sekiro: Shadows Die Twice. "Charge into battle, pick off enemies one-by-one using stealth, or even call upon allies for aid. Many options are at your disposal as you decide how to approach exploration and combat." You'll have access to many weapons, magical abilities, and skills.
Do you love the sound of Elden Ring? Let us know in the comments below.
[source en.bandainamcoent.eu]