Update: A new PlayStation 5 video published shortly after this article went to press pegs Gran Turismo 7 as "coming in 2021". It also stresses that it's a PS5 exclusive.
---
Original Story: Looks like Gran Turismo 7 may take a little longer than anticipated to reach the starting line. You may recall a commercial for the next-gen console showed off several upcoming exclusives, and listed the Polyphony Digital simulation racer as "anticipated first half 2021". That text has since been altered in the same commercial to "in development for PlayStation".
Here's what it originally said: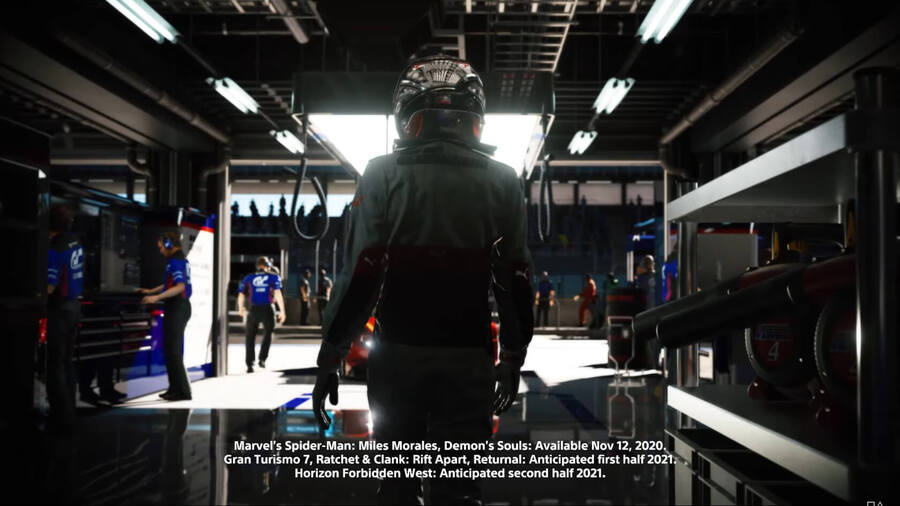 And here's what it says now:
The wording is particularly curious because, not only does it seemingly rule out a release before July 2021, but it also suggests that the title may come to the PlayStation 4 as well. That wouldn't be massively surprising given how the likes of Horizon Forbidden West are also cross-gen, but it's something worth pointing out we suppose.
Like other countries, Japan has been hit hard by coronavirus, though we have read that some developers in the country found themselves ill-equipped to work from home. Of course, Polyphony Digital is renowned for its protracted development cycles, but let's hope this one hasn't been pushed too far back as it really will benefit from being available at the beginning of the generation and evolving over time.
[source youtube.com, via resetera.com]