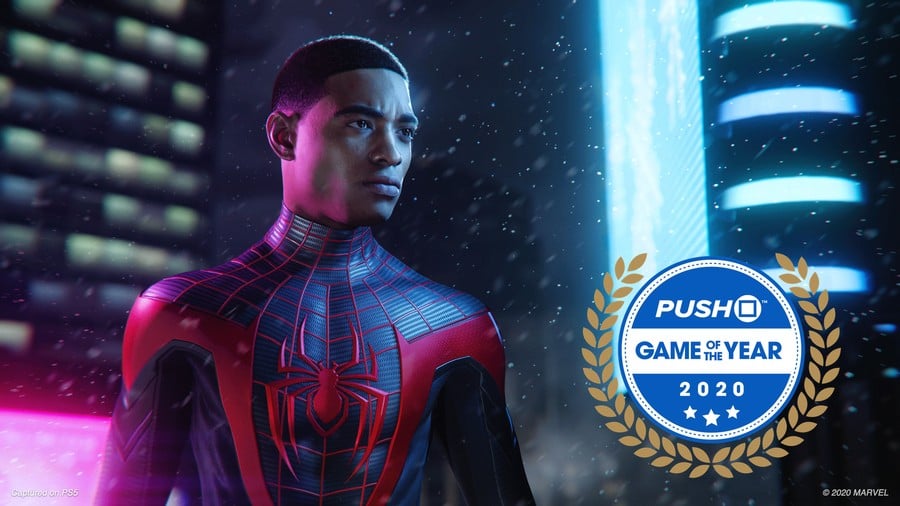 Insomniac Games has got this whole superhero thing figured out, hasn't it? Marvel's Spider-Man: Miles Morales doesn't stray particularly far from its 2018 debut, but that doesn't make it any less worthy of its position on our list. This is gaming comfort food of the best possible kind: an engaging coming of age tale starring a relatable protagonist and some of the finest open world traversal you'll find on any format.
Miles Morales may be unfathomably cool, but his rags-to-riches story of self-belief hits all the right notes. With a running time of around 10 hours, this return to New York City is a lot lighter than Peter Parker's escapade, but it still packs a punch narratively. The developer brilliantly tangles some of its own ideas into Marvel's existing lore, making for a story that's both personal and bombastic; the studio knows when to tone things down, and when to up the ante again.
All of this makes for a true spectacle of a game, with the studio clearly confident in its characters and the type of title it's making. Side-missions are thoughtfully designed, putting interesting spins on established mechanics, while Miles' unique catalogue of moves and abilities mean the stealth gameplay has taken a gigantic stride forward. Interesting enemy types force you to adapt your tactics on the fly, and the combat is crunchy once you begin to fling your fists.
Of course, the game looks truly outstanding running on the PlayStation 5, with the suburbs of Harlem given additional attention to bring them to life. But while the release shines on Sony's next-gen console, credit must also be reserved for Insomniac Games' ability to deliver an equally enjoyable experience on existing PlayStation 4 consoles – no easy feat, especially in the midst of a worldwide pandemic.
There's little to criticise about this campaign, outside of the fact that it's more of the same. If you were a fan of the original Marvel's Spider-Man, then this spin-off is essential material; it refines the gameplay, fleshes out key characters, and it's a visual feast from start-to-finish. Insomniac Games is probably the most dependable developer in the industry right now, and this is yet another must play on its resume.
For more information, you can read our Marvel's Spider-Man: Miles Morales review through the link.
---
Did you love Marvel's Spider-Man: Miles Morales? Does it swing into your top ten at all? Spin a web in the comments below.
How we decide our Game of the Year: This December, our editorial team created a list of nominees for Game of the Year based on our own review scores and a variety of other factors. After much discussion, we trimmed the list of nominees down and asked all Push Square staff and the Push Square community to vote on their five favourites using a points-based system. The ten games with the most points by the designated deadline were then determined as our favourites of 2020.