Update: Here's another photo of the PlayStation 5 in a real-world setting, this time without any clever image editing to make it look smaller. Clearly it's a monster compared to past PlayStation consoles, but we can't help but appreciate its design a little more now we're finally seeing it in the flesh.
---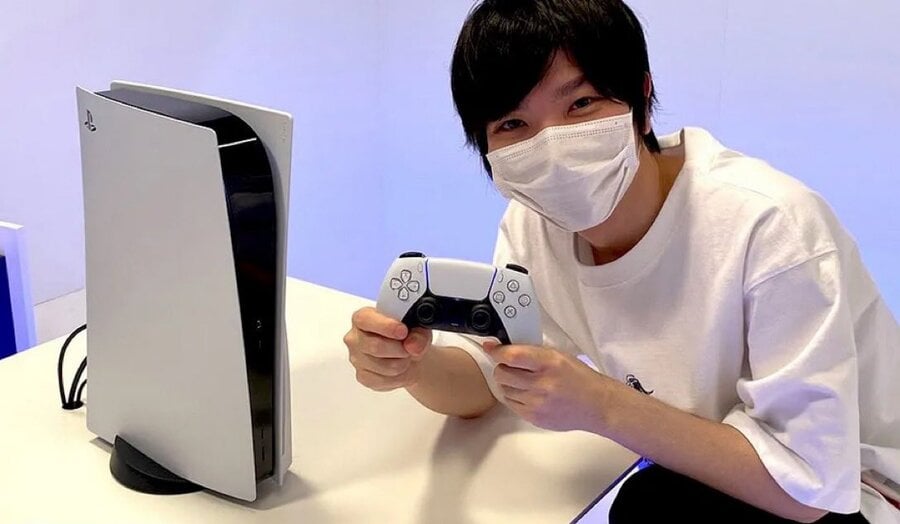 Popular Japanese YouTube channel 赤髪のとものゲーム実況チャンネル!! is set to go live with a PS5 preview this weekend, but for now, the video's thumbnail is interesting enough. This is actually the first time that we've seen a real PlayStation 5 console outside of press shots from Sony (and rather low quality leaked factory images).
The console itself looks quite nice, and the inner casing is a lot shinier than we thought it would be. Whether or not you think the design is ugly, you've got to admit that it's a striking piece of tech.
Our favourite thing about this thumbnail, though? It has to be subtle way in which it makes the next-gen console look smaller than it really is. As we all know, the PS5 is a beast of a machine — the largest Sony has ever made — but this thumbnail makes it seem relatively lightweight. Very clever.
Are you a fan of the PS5's design? Do you wish it was actually this size? Update your opinion in the comments section below.
[source youtube.com, via youtube.com]