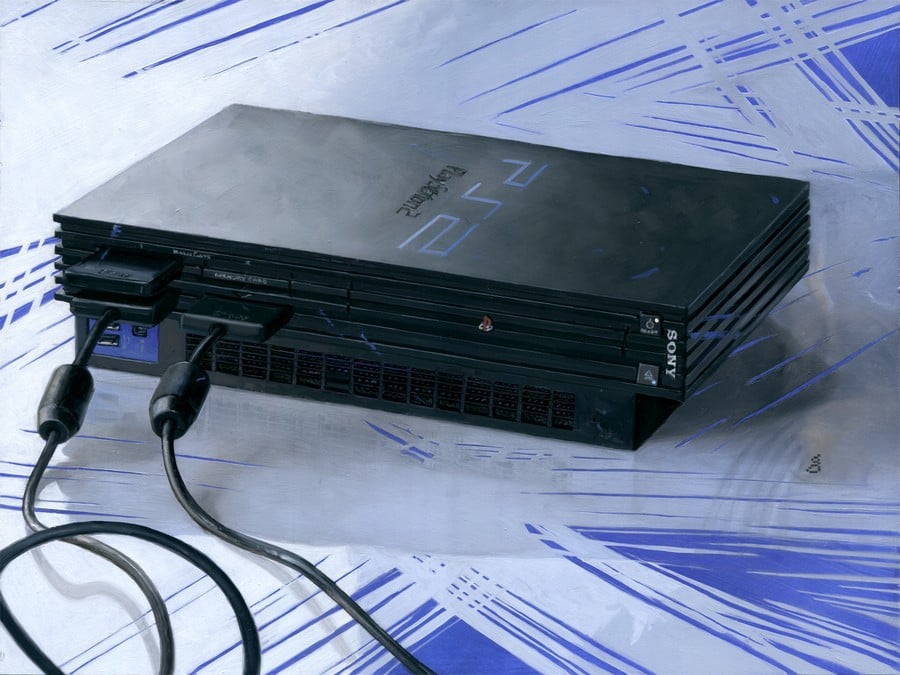 Over the last few years US based artist Randy Gallegos has been painting his way through the history of video game hardware and has recently applied his brush to Sony's PlayStation 2. We interviewed Randy over on Nintendo Life back in 2016 about his Hearts For Hardware series but this time we'll be talking PlayStation. It's possible you already know work by Randy as he has provided illustrations for Magic: The Gathering for over 25 years.
---
Push Square: What about a specific console are you trying to capture in your finished work?
Randy Gallegos: Minimally, an accurate representation of the object that when viewed in person as a painting or print, appears to be life-sized. Still life painting at its base is documentary: this particular tomato, or that particular child's toy.
I always aim to use hardware that looks pristine and new, to bring the viewer back to the day when it was all fresh and amazing, rather than try to portray past glories using a yellowed or dingy piece of kit. When possible, if I can put a nod to some kind of in-joke or reference to something about the hardware, I'll try to do that, though the PlayStation paintings so far haven't had those kinds of references.
I usually paint as many controllers as there are ports, so I paint the stock controller and then any interesting variants. The black one was now the third I'd painted with that form factor, so the translucent one gave some great variety. Also, translucent hardware is super fun to paint.
How do you find the change in design aesthetic between the original PlayStation and then PlayStation 2?
Well, the controllers didn't really change as they had nailed that design down pretty well by that point. That was a bold statement, actually, since I imagine there was internal pressure to redesign it. The hardware and overall colour scheme, however, really made the hardware feel powerful. The original PlayStation, to look at it, didn't seem to be anything special compared to its competition, another console but with discs. What stood out to me the most about the PS2 was the fan! In an era where the PC had become a full gaming platform that could compete with any other, the fan was a gentle sound that made you feel this console was up to the competition, somehow.
Are you interested in painting design revisions such as the PSone and the thinner PS2?
I am, and at least for the more important consoles I do intend to paint these revisions. So yes, the PSone and PS2 slim will get painted at some point, along with a couple other controllers. When they are, they'll be painted as discrete sets, such that the controllers will have the same theme as their revised consoles. I've got a platinum PS2 slim here that I might use when I get around to that.
What is next on your list, and when are we likely to see you painting PS3?
I have a couple of collectors lined up to commission the GameCube and/or Wii paintings, and I have the Atari 5200 here ready to go outside of those commissions. The PS2 set you see here was similarly commissioned. I've kind of learned to wait until a piece of hardware is about 20 years old before painting it. There might be interest right when hardware is brand new (though I haven't tried that), but in the in-between years, the nostalgia hasn't really been built up yet. I'm 45 now, so I expect to paint the PS5 right about when I retire. Wow, I just got sad.
So, still a few years until I really turn my attention to the PS3. There are still huge gaps in this series, that I hope to fill before then — I usually paint these between illustration commissions and other gallery work, although I'd love to be able to take a year and really knock out the backlog, as this is really one of my favourite series of paintings.
Finally, as an artist, what do you make of the PS5 and Xbox Series X designs?
Overall, the PS5 looks about like what I might have hoped a console of the future would have looked, if you'd asked me 30 years ago. The router comparisons are funny, of course, and I've never been sold on consoles being vertically oriented... but my first console was an Atari 2600, so I was habituated early. I also like being able to place things on the console, while it is laying horizontally.

The Series X, apart from Microsoft's confusing naming convention, likewise makes a statement. I don't know that it tries to evoke the future, but it is likely to look less dated than the PS5 will when I paint it someday. I do like that I can lay it horizontally. It's quite large though. It does look like a subwoofer, and the Series S looks like a portable speaker as well. Between these comparisons and the PS5 / router comparisons, perhaps the convergence of design is getting a bit too complete.

---
Thanks to Randy for his time, you can find him at his website Hearts of Hardware and also on Instagram and Twitter. What other PlayStation hardware do you think deserves to be immortalized as artwork? Paint your answer in the comments below.
[source heartsforhardware.com]