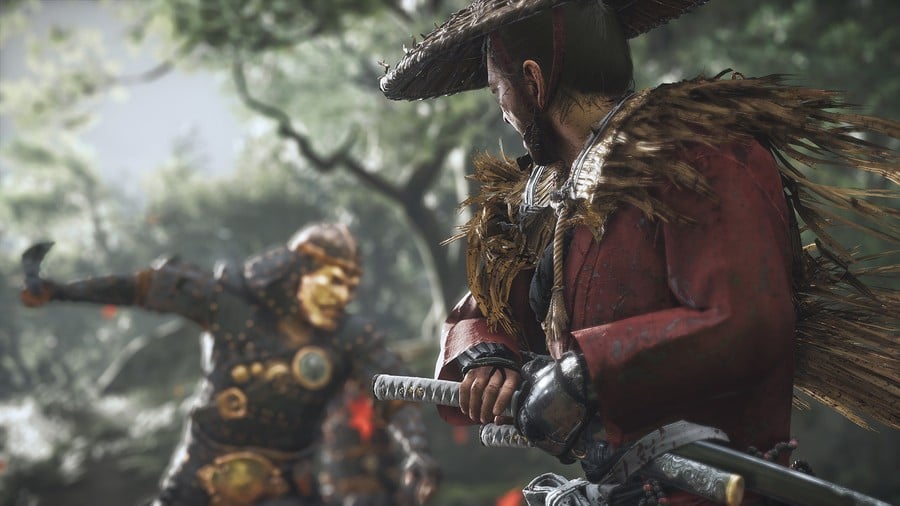 We've not seen a ton of Ghost of Tsushima, but the combat has always looked deadly, swift, and deliberate. It's no secret that Sucker Punch has been inspired by classic samurai films when making this PlayStation 4 title, and it looks to have nailed that intense action. In a lengthy PS Blog post, the studio explains how the combat came to be.
In wanting to keep combat as deathly quick as possible, the team looked into real-world reaction times. "Human reaction times are slower than you think — it takes about 0.3 seconds to respond to a visual stimulus," writes Chris Zimmerman. He says that this statistic informed the combat, and the team partially designed the combat "dancing around these limits". Ultimately, Sucker Punch landed on a system where your attacks are ultra quick, but enemies will give you enough warning to react to. Any follow-up blows will be faster, though, and multiple enemies can overlap each other, keeping the pressure on you to react accordingly.
The blog post also talks about the danger of combat, and how both you and the Mongol soldiers can be downed in just a few swipes. "That sense of danger, that you're never more than a few mistakes away from dying, is crucial to Ghost of Tsushima's tone," Zimmerman says. Another focus of the game's combat is precision, and that meant making sure inputs are as responsive as possible. Jin can cancel heavier attacks if needs be, and players are rewarded for precise blocks by turning them into parries, leaving your foes open to a counter.
There's more information on the PS Blog if you want to learn more. Long story short, the combat sounds highly skill-based, which is okay with us.
Ghost of Tsushima has gone gold, and is due to release in less than a month, on 17th July. Are you looking forward to it? Slice and dice in the comments section below.
[source blog.playstation.com]